Nickel-Silver & Aluminum-Plated Plaques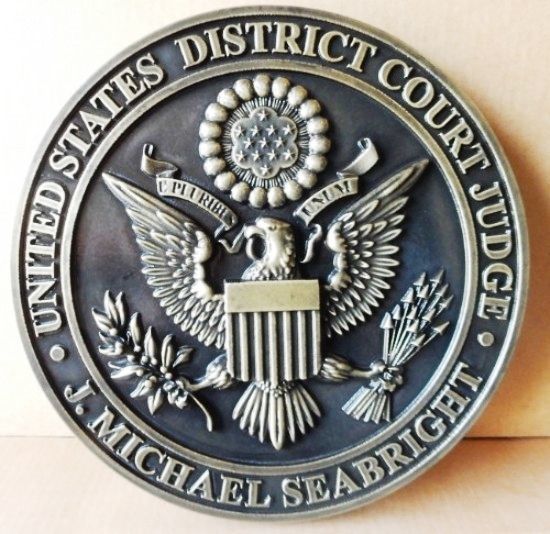 WELCOME TO OUR GALLERY OF NICKEL-SILVER & ALUMINUM PLAQUES   (STYLE CATEGORIES 1.2.7  & 1.2.8)      
Welcome to our photo Gallery for our custom nickel-silver  and aluminum-plated  metal plaques, where we show over 50 examples of various styles of these plaques. We design and fabricate hundreds of beautiful  custom 3-D bas-relief and 2.5-D flat-relief nickel-silver (also called German silver) and aluminum-plated  plaques each year for courts, federal and state governments, police and firefighters, military units, universities, schools, clubs, corporations,  and  homes.  Each  plaque is custom crafted  by our experienced and skilled craftsmen and artisans. We use  several techniques to provide increased contrast to make these  authentic  plaques more attractive and increase their readability. One technique that produces a very dramatic looking plaque is to hand-rub black paint into the background and on top of the polished metal lettering and artwork, then wipe the paint off while it is still wet, giving an antique look to the plaque. The plaques shown in  MD4110 and MA1180 below have been made using this process.   We also use a dark gray patina for the background of nickel-silver plaques, such as for the plaque in Fig.1 below. We also make nickel-silver and aluminum plaques that utilize other features, such as 24K gold-leaf, silver-leaf, digitally-printed colored vinyl photos, and engraved brass plates. All our metal-plated  plaques are  moisture-proof, non-fading, and graffiti-resistant.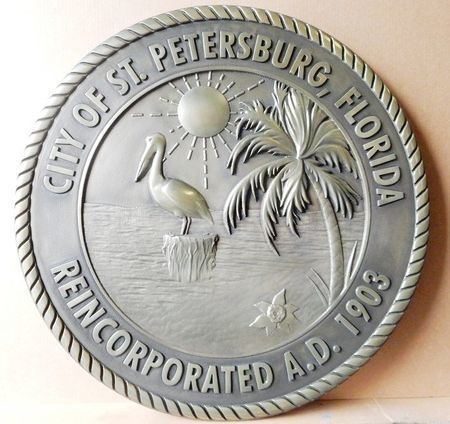 Nickel-Silver. We use Nickel-silver, sometimes called German Silver, to plate many plaques each year. Nickel-silver is a copper alloy with  60% copper, 20% nickel and 20% zinc. Nickel-silver is named for its silvery appearance, but it contains no elemental silver. The name "German silver" refers to its development by 19th-century German metalworkers in imitation of the Chinese alloy known as paktong (cupronickel).  It became known in the West from imported wares called paktong (Cantonese), literally "white copper", for which the silvery metal  was used to imitate sterling silver. The earliest European mention of paktong occurs in the year 1597. In 1823 a German competition was held to perfect the production process; the goal was to develop an alloy that possessed the closest visual similarity to silver. It formed an ideal, strong and bright substrate for the plating process. With our cold-spray plating application,  Nickel-Silver is indistinguishable from foundry-cast nickel-silver and is an impressive silvery metal veneer on our High-Density-Urethane (HDU) plaques.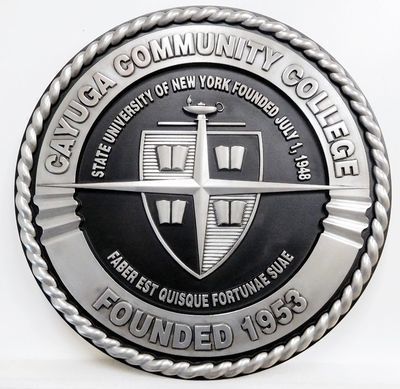 Aluminum. Many of our plaques are plated with aluminum, which gives them a  highly reflective shiny, silvery  finish when polished and buffed. Aluminum is more specularly reflective of light than nickel-silver, which has a duller, more diffuse finish. Aluminum is the 13th element,  the most abundant metal in the Earth's crust. It has a low density and is lightweight,  strong and corrosion resistant. Aluminum was once considered more valuable than gold, Napoleon gave his most honored banquet guests aluminum utensils, while the others were given gold utensils. Aluminum is used extensively in buildings and architectural features.The apex of the Washington Monument is made of aluminum. Our aluminum plating possesses all the characteristics of foundry-cast aluminum, including texture and finish, and is indiscernible  when compared to the solid metal.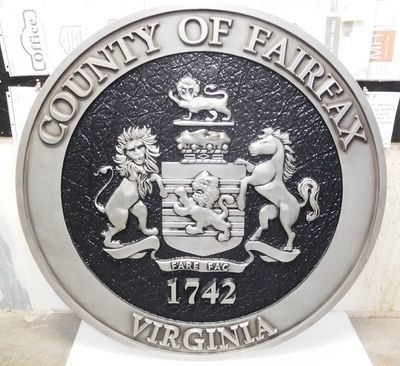 >
This Gallery describes and shows over fifty  examples of our custom nickel-silver and aluminum- plated plaques. We offer  several choices for shape, colors and surface finishes.  The prices for each of these different styles of brass plaques is given on the PRICE  webpage , listed under Style Category 1.2.7 & 1.2.8 for several plaque sizes.  3-D bas-relief plaques have higher prices than 2.5-D flat relief plaques because of the additional labor and time to carve and hand-sand  the High-Density-Urethane (HDU) substrate that is plated with the metal veneer.  The plaque background can be smooth or can have a sandstone or wood grain texture. 
>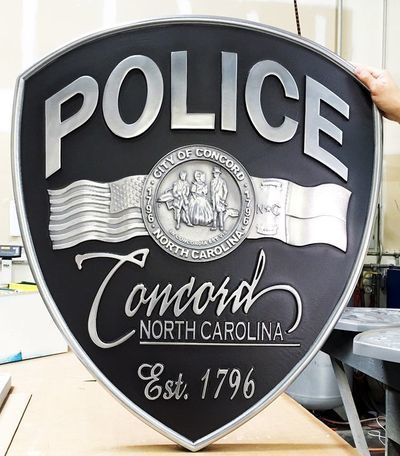 STYLE VARIATIONS OF OUR GERMAN SILVER & ALUMINUM PLAQUES
After the metal-plating has been applied and the metal veneer is highly polished to a shine, the background can be given a patina or painted, with several color choices, some of which are shown in the photos below.
Hand-Rubbed Paint or Patina. The background of an aluminum or German silver plaque can be lightly polished, in which case it has a duller grayish color.   Another technique that produces a very handsome plaque is to apply a dark patina to the background and high polish the text, art and borders, improving contrast and readability while giving an antique look to the plaque. A patina is  a coating which chemically combines with the aluminum or German silver, usually with oxidation, changing its color, with several color choices, some of which are shown in the photos below.  This results in a dull, slightly variable finish  where the patina is applied.  Alternatively, after the aluminum or nickel-silver plating has cured, we can spray the entire plaque with paint and the hand-rub it off with a small cloth or cotton swab to remove the paint from the high surfaces, leaving it on the background and in creases and depressions. Finally, we apply two clear coats to the finished aluminum or nickel-silver  plaque to protect it from oxidizing.
Artist-Painted. Our artists can also paint  some areas of  our metal plaques in muted or vibrant colors. The background can be painted lighter or darker than the German silver or aluminum, or it can be painted in  blue, red, or green colors to enhance contrast. Artwork can be artist-painted in many colors, and text can be artist-painted in black or dark gray colors.
Giclee Photo Appliques. Cast vinyl full-color, sepia or gray scale giclee photo appliques can be mounted on flat areas of any of our metal-plated plaques. This technique results in beautiful and elegant  memorial or commemorative plaques, where the clarity and accuracy of a photo is enhanced by the 3-D bas relief artwork and 2.5-D text, background and border of the aluminum or nickel-silver metal.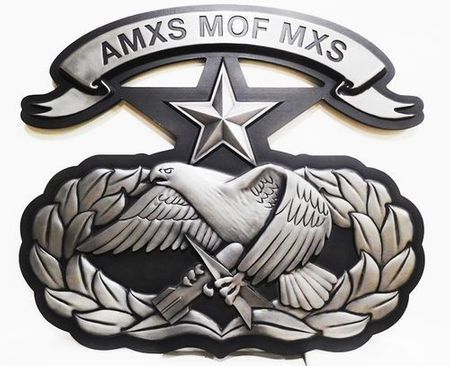 HOW TO CONTACT US
The prices for these styles  for various size plaques is given on the PRICE  page (click here or on PRICE in gold masthead) , listed under Style Categories 1.2.7 and 1.2.8.  Or, you can fill out and submit our on-line Request a quote form. You can also call or email us for a price quote on a specific plaque.  One of our knowledgeable and helpful Customer Service Representatives, Christie, Regina, or Liz, will respond to your request promptly.  You can call us at 951-698-8484 or email us at info@artsignworks.com. We will work with you to design and build the exact plaque you want. We take great pride in every product we make for our valued clients. We offer a 2 year warranty on all our products, and our indoor plaques will last many decades without degradation.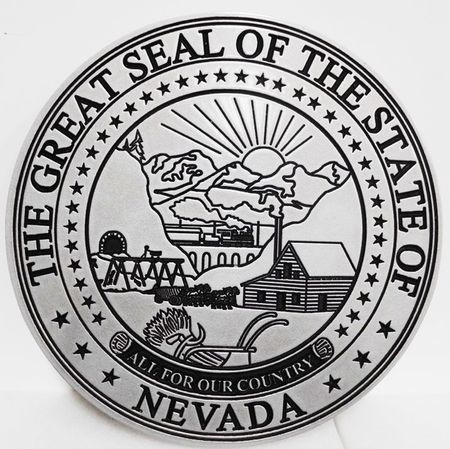 WEBSITE NAVIGATION
You can go to another Section or Gallery page by clicking on an item in the pull-down menus in the gold masthead at the top of the page.  You  can search for a specific plaque type (e.g., "FBI" ) by entering the key word in the search box in the upper right of the gold masthead. You can view a list and use the navigation bar for all 24  Gallery types by viewing the silver box on the left side of the HOME  page. You can also view different types of plaques for different customer groups (e.g., State Courts or US Coast Guard) by clicking on the TYPE section in the gold masthead above.  You can view a description of all of the different plaque styles by clicking on  the plaque  STYLE section also listed in the gold masthead. 
To request information, a design, a quote, or to place an order, click on the text (e.g., "contact ", " quote", " file" or " order")  in the upper  right of the gold masthead at the top of this page.  All prices are given on the PRICE page in the gold masthead. 
For more information on design options, prices and delivery times, please call us at 951-698- 8484 or email us at info@artsignworks.com, and one of our knowledgeable and friendly customer service representatives Christie, Regina and Liz, will be pleased to help you.