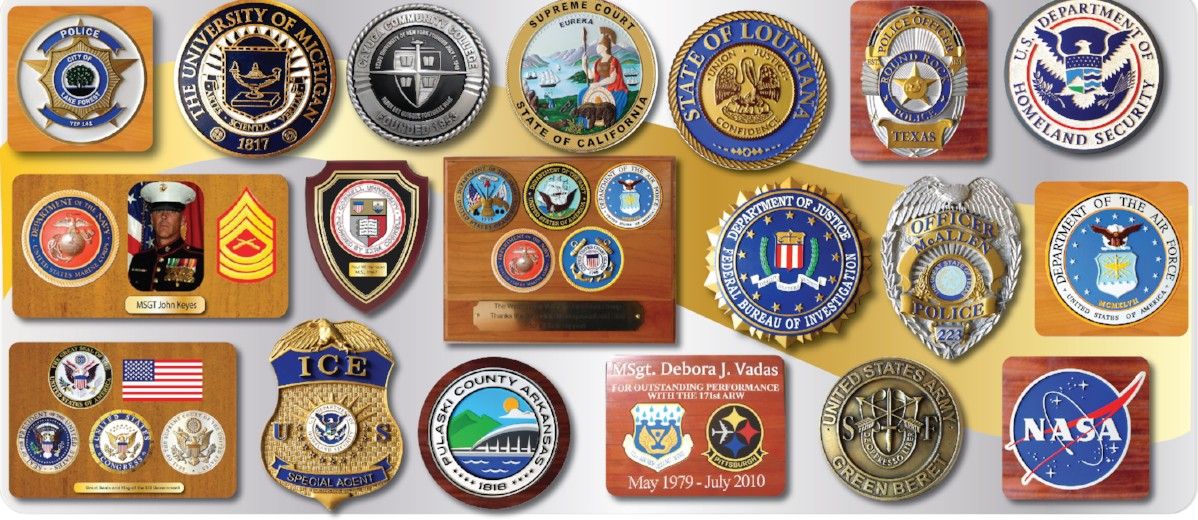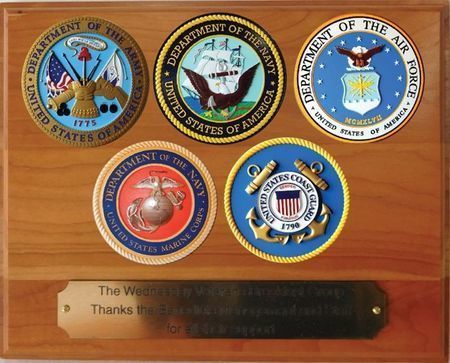 WELCOME TO OUR 2-D GICLEE APPLIQUE PLAQUES     (STYLE CATEGORIES 1.4.1, 1.4.2, 1.4.3 & 1.4.4)                         
Welcome to our   photo gallery and description of two-dimensional (2-D) flat digitally printed giclee vinyl appliques mounted on either Mahogany, acrylic,  or Sintra board (expanded PVC) substrates. These are our lowest price plaques, typically less than half  of the price of our  2.5-D carved and hand-painted plaques, and less than 1/4 of the price of our carved hand-painted 3-D bas-relief plaques made of wood or High-Density-Urethane (HDU).   They are also lighter and can often be mounted on a wall using double-backed tape or a picture hanger.
We can make  any  3-D or 2.5-D painted, stained wood or metal-plated plaque artwork design shown on this website in a 2-D printed giclee version by using the high-resolution photo of one of our 3-D or 2.5-D carved plaques. We can also make a low-cost giclee plaque on either a wood, acrylic   or Sintra  substrate if you supply a high quality digital photo, line drawing, or illustration in high-resolution JPEG , PNP, EPS, or Adobe Illustrator vector format.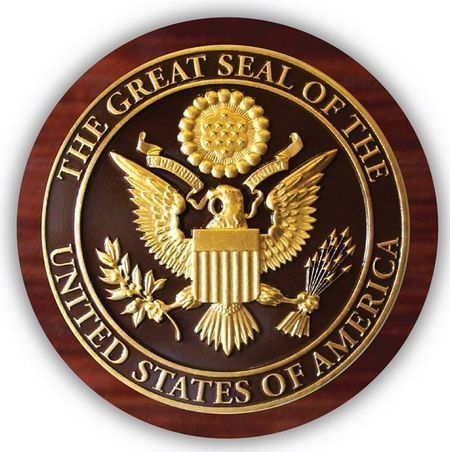 We make these in sizes from 10 inches to 24 inches. These are ideal for offices, desks, and podiums. The White House uses this type of plaque on the podiums for the President. All substrates can be mounted indoors, but only those plaques with acrylic and Sintra bases can be mounted outdoors. The digitally printed giclee cast vinyl  (made by 3M) appliques will last 6 to 8 years outdoors without degradation. We use the same vinyl  for our giclee plaques that are used for car, truck and bus full color advertising vinyl wraps.
Our 2-D plaques have the appearance of  our carved, artist-painted, metal-coated or stained wood plaques 3-D from a distance, because they feature high-resolution photos of our carved plaques digitally printed  on high-quality long-lasting 3M cast vinyl.  If your agency, military unit company or company wants dozens or hundreds of plaques for individual personnel, this is the way to go. We can sell these are far lower prices because the materials and labor costs are much lower than our carved plaques.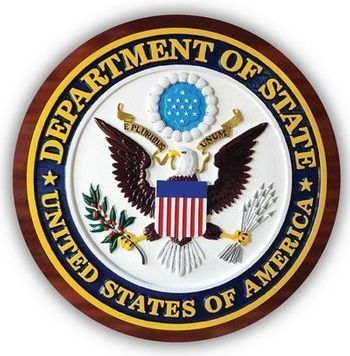 For large orders when we have not previously made a carved artist-painted or metal-coated seal in a carved 3-D or 2.5-D plaque (i.e.,  it will not be shown on this website), we can make one of these, photograph it in high resolution, and then make smaller versions  using the printed giclee image process. We also sell these one at a time, but the image must be on this website or you must provide it in a digital format.   You can also provide an actual metal badge, insignia or medal, and we will photograph it and return it to you. 
We can make  these plaques  with a  brilliantly colored glossy giclee vinyl image mounted on a flat  African mahogany  1 inch  thick   or Sintra  (expanded PVC) board substrate 1/4" thick.  Even the smallest plaques have great detail because the images are printed with a high-resolution digital sign printer. These are neither carved in 2-5 D/3-D or nor are they hand-painted, unlike the higher-priced plaques on this website. However, they look terrific!! 
We can  make plaques featuring the seals, crests and logos of federal, State and local government agencies; all branches of  the military;  police,  sheriffs and firefighters; universities,schools, and fraternities;  clubs, businesses and families.  Each  plaque is custom crafted  by our experienced and skilled craftsmen and artisans.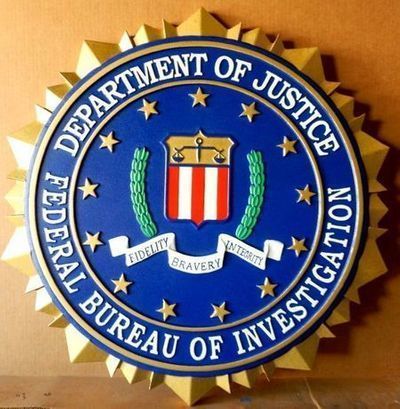 All we require is a high resolution JPEG or PNP raster image (it can be a photo) of the artwork you want on the plaque. However, we prefer the artwork , if it is a drawing, to be in vector format (Adobe Illustrator or EPS). Artwork is usually images of seals, crests, emblems, badges and logos, but can also be photos of people, animals, places or scenery. We have a large library of these images  for all of the standard seals for the Federal and State Governments, the Military Services, and Universities, and we can use the digital image of the photo of any plaque in any gallery shown on this web site. Simply designate the number of the photo and we take it from there. If you supply an  image of a photograph or drawing, it must have high enough resolution so when it is expanded pixelation is not apparent (i.e., it will not be fuzzy). This usually implies an image containing at least a 3000 x 3000 pixels, which is standard for most good cameras . Photos taken with smart phones usually do not have sufficient resolution when expanded to a plaque with a diameter of 10 to 24 inches. We can redraw drawings or illustrations for an additional fee; but we cannot enhance low-resolution photos.  A fuzzy photo will result in a fuzzy image on your plaque.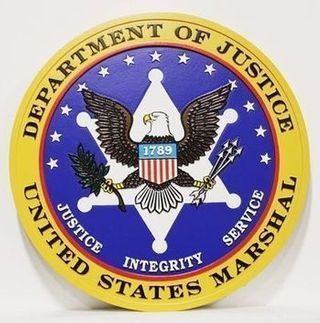 Our giclee plaques do not have the dimensionality of of our carved plaques, but are  very attractive, because of the high-resolution, vivid color printing process used by our high-end inkjet wide format printer and the fact we use photos of an actual carved 3-D bas relief or 2.5-D multi-level or engraved plaque, rather than line drawings . These are very high quality prints, equivalent to printing methods used for reproductions of fine paintings. These images are printed on long-lasting cast vinyl in brilliant, glossy colors, and the high-resolution prints look very realistic. They can be mounted outdoors as well as indoors, and will last a 6 to 8 years or more even outdoors.
>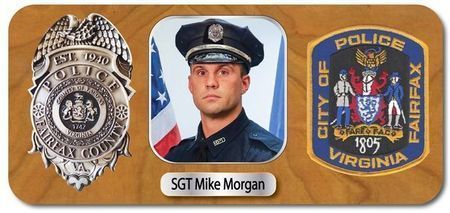 Carved Mahogany Plaques with Giclee Prints  
We install these digitally printed giclee vinyl appliques on  carved, 1 inch thick premium African Mahogany plaques cut to shape with our computer-controlled routers with beveled edges, stained and clear-coated. This gives the plaques a rich look.  We can make rectangular or square plaques with rounded corners, round plaques, shield-shaped plaques, or irregular shaped plaques with a wood border around the giclee applique. We use our computer controlled router to cut these substrates, and can bevel the edges. We then stain them to produce the color you want.  We then apply the printed giclee vinyl  applique. and clear-coat the entire plaque to give it a bright finish.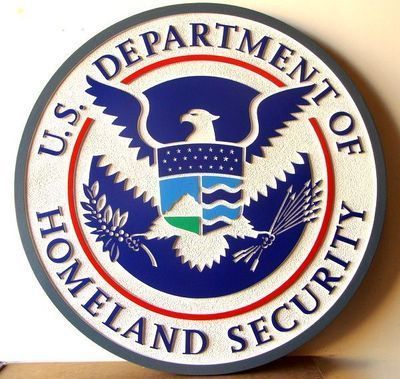 Acrylic or Sintra Plaques with Giclee Prints
Lighter weight, less expensive versions of these giclee plaques are made by installing the vinyl applique on a 1/4 inch thick cut-out piece of Sintra board (expanded PVC) , usually round, but it can be rectangular, the shape of a shield, or a custom irregular shape   Both of these are special types of tough, long-lasting, dimensionally stable plastic. Usually the printed giclee vinyl applique covers the substrate so it is not visible. These   plaques can usually mounted on a wall using double-backed tape , which can be removed  without damaging most walls or podiums, or a saw-toothed picture hanger which we mount on the back of the plaque. Larger plaques require a keyhole to support the weight.
>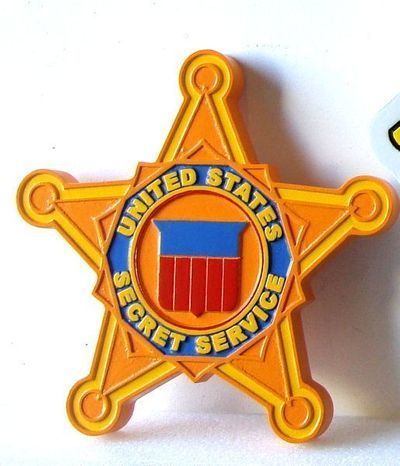 Most of the plaques on this page have styles 1.4.1  (Wood base Plaque) and 1.4.3  (Acrylic or Sintra base Plaque). Prices for various size plaques are given in Section 1.4 of our PRICE page.  Prices for Sintra backed plaques (10 inches to 18 inches in diameter) range from $110 to $180. Prices for Mahogany  substrate plaques 10 inches to 18 inches range from $180 to $250. Brass tags and hanging hardware are extra. Small plaques can use double-backed tape or a sawtooth picture hanger for mounting  on in a wall.
These plaques are generally designed for indoor use. However the plaques can be mounted outside, since the  materials are waterproof and the giclee vinyl appliques are designed for 8 years outdoor use (this is the same material used for brightly colored truck, bus and car exterior advertising, called wraps). 
>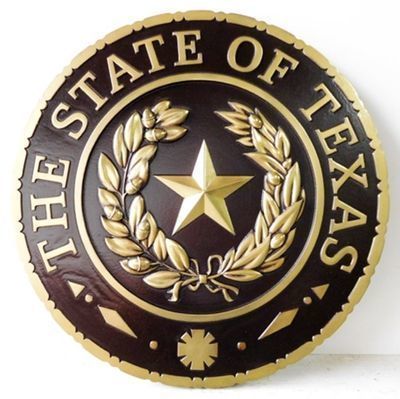 HOW TO CONTACT US
The prices for these styles  for various size plaques is given on the PRICE  web page (click here or on PRICE in gold masthead) , listed under Style Categories 1.4.1, and 1.4.2.  Or, you can fill out and submit our on-line Request a quote form. You can also call or email us for a price quote on a specific plaque.  One of our  knowledgeable and helpful Customer Service Representatives, Christie, Regina, or Liz, will respond to your request promptly.  You can call us at 951-698-8484 or email us at info@artsignworks.com.
We will work with you to design and build the exact plaque you want. We take great pride in every product we make for our valued clients. We offer a 2 year warranty on all our products, and our indoor plaques will last many decades without degradation.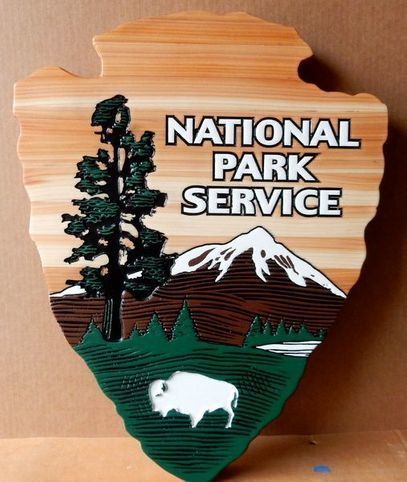 WEBSITE NAVIGATION
You can go to another Section or Gallery page by clicking on an item in the pull-down menus in the gold masthead at the top of the page.  You  can search for a specific plaque type (e.g., "FBI" ) by entering the key word in the search box in the upper right of the gold masthead. You can view a list and use the navigation bar for all 24  Gallery types by viewing the silver box on the left side of the HOME  page. You can also view different types of plaques for different customer groups (e.g., State Courts or US Coast Guard) by clicking on the TYPE section in the gold masthead above.  You can view a description of all of the different plaque styles by clicking on  the plaque  STYLE section also listed in the gold masthead. 
To request information, a design, a quote, or to place an order, click on the text (e.g., "contact ", " quote", " file" or " order")  in the upper  right of the gold masthead at the top of this page.  All prices are given on the PRICE page in the gold masthead.