EA-2030 - Seal of the Department of Homeland Security Mounted on Mahogany Plaque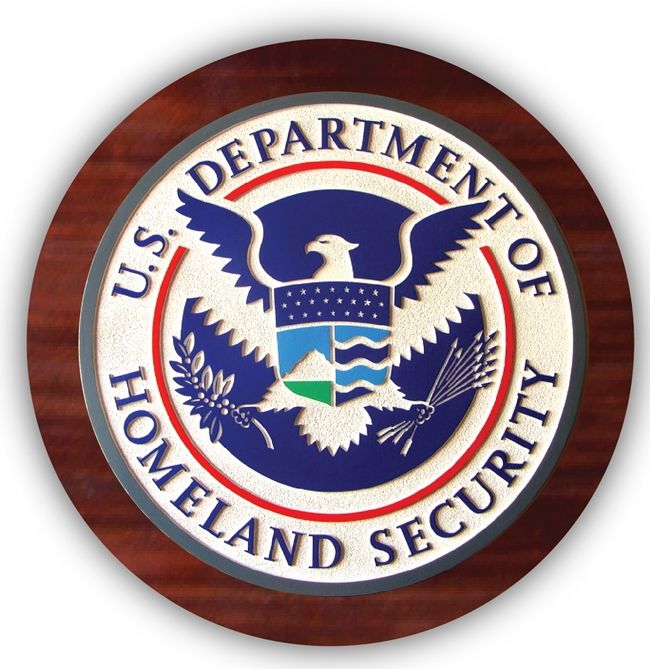 This is a  plaque of the Seal of the Department of Homeland Security. This plaque is carved from African Mahogany veneer, with a giclée photo of one of our carved artist-painted 2.5-D seals (Homeland Security)  printed on long-lasting vinyl . The plaque is clear-coated twice. Plaques of this type can be ordered in any size from 10 inches to 24 inches in width. This plaque can also be ordered with a solid Mahogany (rather than veneer) backboard and carved 2.5-D artist-painted seal (rather than a giclée print), at a higher price.
Prices for various sizes of this plaque are given on our PRICE page (click to see prices). The Style Category for this plaque is 1.4.1, and the Price Code is EA. 
If you have a high-resolution photo of a person, a  seal, an insignia, an emblem, a logo, a badge, a medal, a shoulder / chest patch, or a flag/pennant, we can make a 2.5-D mahogany veneer wall plaque with it. We can also use our own photos of any 3-D or 2.5-D seals, badges, etc that are on this website - you do not need to provide these. 
These plaques can be mounted on a wall or podium with several hardware options, including double-backed tape or a keyhole on a nail.
For more information on design options, prices and delivery schedules, please call us at 951-698-8484 or email us at info@artsignworks.com, and we will respond promptly. To go to the main Economy Plaque photo gallery, please click on "Return to List" below left.