CUSTOM CARVED ARTIST-PAINTED HDU, BRONZE, BRASS, SILVER,  MAHOGANY AND GICLEE PRINTED DIMENSIONAL PLAQUES - MADE IN THE USA
Welcome to the website of The Wood & Metal Plaque Company, a division of Art Sign Works, Inc., that specializes in designing and manufacturing custom wall and podium plaques.  We  design and carve a wide variety of standard, custom and personalized hand-crafted authentic and  beautiful wood, bronze, brass, silver, gold and High-Density-Urethane(HDU)  3-D,  2.5-D and 2-D dimensional plaques.  We specialize in making plaques featuring the seals, emblems, insignia, badges and shoulder patches of Federal/state/local government, court, military, police/sheriff & fire/emergency  organizations. We also make custom wall plaques for universities, companies, churches, clubs, and homes.
We display photos of over two thousand plaques carefully organized by types (client category)  and design styles (material)  on this easily navigated  website. If you are having problems finding the perfect design for your plaque, call us at 951-698-8484 or email us at info@artsignworks.com  and Regina or Christie will be happy to help you! We offer the highest quality materials, superb workmanship, outstanding customer service, short turnaround times (typically 30 days from order to shipment), and factory-direct affordable prices to government, commercial, non-profit and consumer clients. We also offer wholesale prices to retailers and resellers, and discounts for buys of 3 or more identical plaques. All our plaques are manufactured in the USA ,  using American-made materials.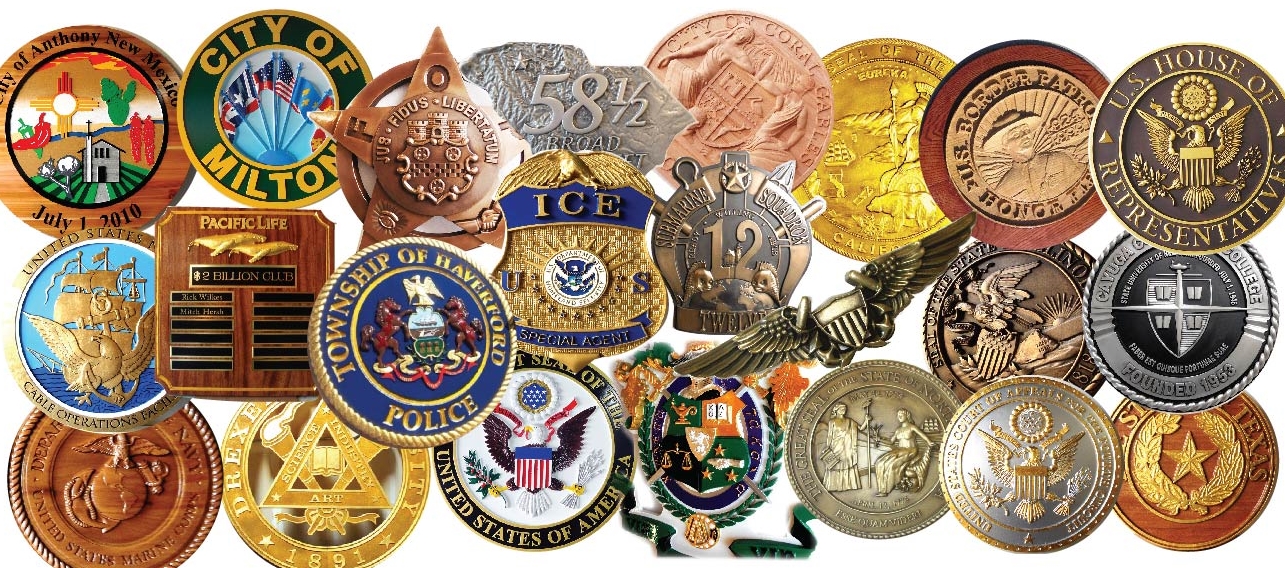 Fig 1- Examples of Painted, Metal and Wood Plaques We Have Made
We make the following styles of custom and personalized wall and podium plaques:
Carved 3-D bas-relief,  2.5-D multi-level relief, and engraved dimensional  plaques that are artist-painted in gorgeous, brilliant colors      

Highly polished or antiqued  bronze, brass, copper, aluminum, nickel-silver,  24K gold or  pure silver plated plaques            

Beautiful natural and stained mahogany, cedar, redwood, maple and oak wood plaques  carved in 3-D bas-relief  or V-carved engraved                                                                    

Economical 2-D acrylic and wood plaques with  printed giclee  photos  or laser-engraved text & art, with engraved brass plates 
Most plaque manufacturers only offer a single style or material for plaques; we offer  a wide selection of styles and materials, that will fit into nearly any budget.  Our plaques range from simple, low-cost giclee printed flat plaques (they look great by the way, from a distance they look like 3-D carved plaques) to elegant intricately carved 3-D bas-relief, artist-painted, gold and silver-leaf gilded wall plaques. You are welcome to consult with our knowledgeable customer service representatives, Christie and Regina,  to select an appropriate custom, personalized or standard plaque style with the appearance you want at an affordable price.
On this website we show photos of over 2000 photos of  examples of custom 2-D, engraved, 2.5-D multi-level,  and 3-D bas-relief carved wall and podium plaques that we have made. These feature seals, insignia, emblems, crests, badges, medallions, logos, coat-of-arms, command boards, name plates and photo and quote plaques  for government, military, companies, universities, clubs, churches,  non-profit organizations, and homes & families.  We can make a custom or personalized plaque in the size you want with any artwork or text.The short video below summarizes the different types of plaques we make and the creativity and  workmanship that goes into each and every plaque.
Who We Are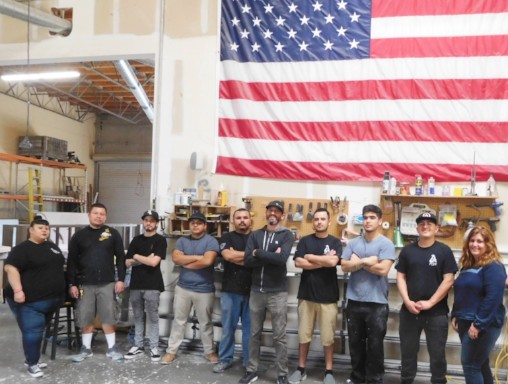 The Wood and Metal Plaque Company is an independent family-owned business founded 13 years ago . It is a wholly owned subsidiary of Art Sign Works, Inc.  Since then we have supplied  authentic, creative and beautiful wall and podium plaques to our several thousand satisfied customers.
Our custom  plaques and their materials are all made in the USA by skilled and experienced American artists, artisans and  craftsmen, some of which have been with us over 10 years. Every plaque is individually hand-crafted, made to order to your specifications. Our craftsmen and artisans consider each plaque a unique work of art, and take great pride in producing the very finest custom plaques available.  If you can provide us a sketch (no matter how rough), or a drawing or photo of the plaque you want made,  we will design and make you a perfect plaque. We do not mass-produce these plaques with molds, and we have no "off-the-shelf" plaques, although we do make "standard" plaques like US Federal government and military plaques with official seals  that we have made hundreds of times.  Fig. 1 at the top of this page shows  examples of different types and styles of plaques we have recently made.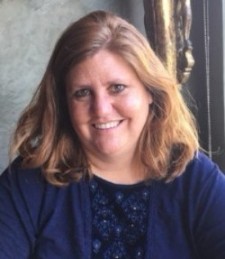 If you're looking for a top-quality custom plaque company with friendly, knowledgeable customer service representatives and experienced  skilled craftsmen and artisans,  you've found it. We will work with you every step of the way to design and carve your perfect wood, metal or hand-painted custom or personalized wall plaque.  We make long-lasting plaques from 10 inches to 10 feet in diameter, for both inside and outside locations. These are easily mounted on walls or podiums due to their light weight  and built-in attachment hardware. Our plaques are reasonably priced, because of our efficient computerized 3-D designs made by creative graphic artists, our proprietary automated computer-controlled manufacturing techniques using state-of-the-art precision carving machines, and our our hand-finishing and artist brush painting by our skilled and experienced artisans and craftsmen. We make these plaques in our modern 10,000 square foot factory in Murrieta, California.  If you view our Testimonials page, you will see we have many satisfied clients for whom we have made  beautiful, elegant and long-lasting  plaques.
You can call us at 951-698-8484 or email us at info@artsignworks.com  for information or a quote, and  Regina or Christie, our knowledgeable and friendly Customer Service Representatives, will provide you a fast response. You can also click on the quick link tabs on the top right of the gold masthead to fill out a form,  to request a quote, to send a file, or place an order.
Which do you want, a Plaque or a Sign?
Plaques, in contrast with signs,  are usually ornamental and decorative, with a minimum of text and emphasis on artwork.  Plaques can be used to identify, to provide information, or to commemorate an organization, a person or event. They are usually mounted on walls or podiums inside  buildings or ships. However, our plaques can also be mounted on outside walls or monument bases.
Signs, as contrasted with plaques,  identify or advertise a place of business, a product, or a location, or can post information, a command or a direction (e.g. traffic & wayfinding signs). Signs are usually placed outside a home, a building or on a street post, and are often large. They can be mounted between posts, hung from a beam or scroll bracket, mounted on a monument base, or mounted on a wall or roof.  Art Sign Works, Inc, our parent corporation, has made over twelve thousand different types of large and small signs, which can be viewed on www.artsignworks.com.
If you are looking for an exterior sign for a residence or vacation home (including address number /property name signs), farm, ranch, business , professional office, church, park, apartment complex, etc., please visit Art Sign Works, Inc, where over 10,000 signs are displayed and organized according to type category (i.e, customer group). This website  www.woodmetalplaques.com displays  primarily carved wood and metal indoor plaques, and displays very few signs.
Types of Plaques (Client Categories)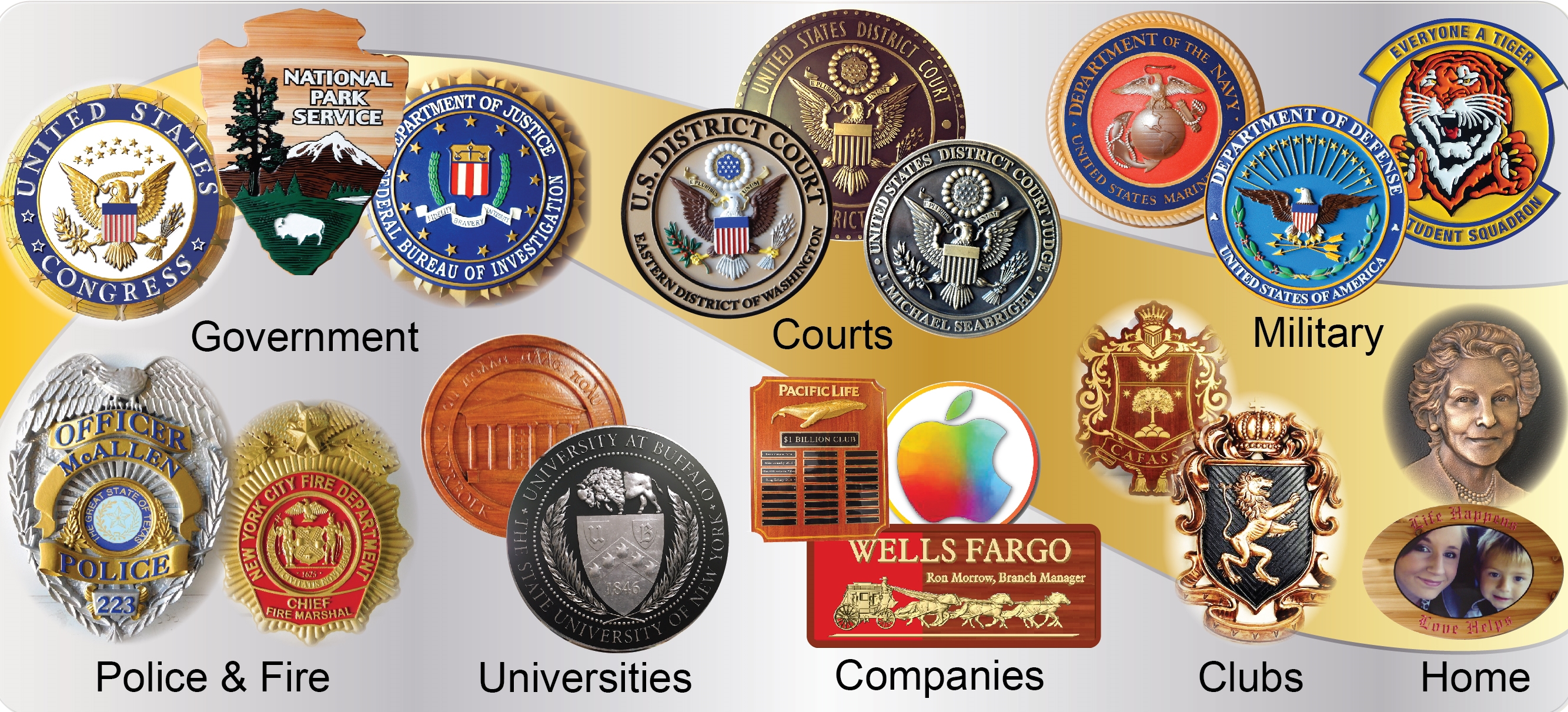 Fig. 4 - We Design and Fabricate Plaques for Many Types of Government, Military, Law Enforcement, University, Business, Sports Team, and Family Customers
We make beautiful custom, unique  plaques for a national and international clientele, including Federal, state and local government agencies, federal & state courts,  all five military services, companies, universities, churches,  fraternal organizations, and homes. We have made over 4000 different custom plaques for a wide variety of government organizations across the US, including the White House, all Executive Departments, Congress, over 50 Federal and State Courts, and 30 Embassies and Consulates. We have designed and fabricated thousands of plaques of the Great Seals of various state, county, city and village  governments and courts, and their police, sheriff and fire departments. We make  plaques featuring seals, insignia, crests, badges, pins, and logos,   and we design and make command board plaques for the Department of Defense and the five military services and their units. You can also view  on this site hundreds of custom plaques we designed and fabricated for universities, schools, fraternities & sororities, churches, companies, families, and clubs that feature their seals, logos, crests and coat-of-arms. The gold/ silver text box on the upper left of this page lists these various types of plaques; you can click on a client category to go to that gallery page. You can also click on the TYPE  title in the gold masthead  above for a pull-down menu that lists these various client categories.
Prices Vary with Plaque Size, Relief Style, Materials, and Surface Finishes
Our  plaques have wide variations in prices, depending on size and style. Fig. 7 below shows our three basic relief styles, 2-D flat relief , 2.5-D multi-level relief, and 3-D bas-relief. These can be made of different materials, including natural wood, artist-painted High-Density-Urethane (HDU) , metal-coated HDU, and acrylic. Our STYLE page describes these in detail.  
Our lowest price economy 2-D  plaques feature digitally-printed full-color giclee vinyl appliques mounted on a  round  or rectangular solid Mahogany or acrylic base. The prices for this type of  two-dimensional (2-D) flat custom plaque are as low as $85 (acrylic base) or $125 (Mahogany solid wood base) for a 10 inch diameter plaque. The prices are $115 and $170 for an 18 inch diameter plaque, respectively. These  prices  assume we have made a previous plaque of the same artwork design  ( featured in one of our Galleries of over 2000 photos), or for new artwork, that we are provided a print-ready JPEG photo or colored drawing of the artwork for the plaque. These are  styles 1.4.1 (Price Code EA, wood base) and 1.4.3 (Price Code EB, acrylic base)  on our Price page, with  examples shown on our 2-D Giclee Plaque web page.
Our carved 2.5-D multi-level or engraved  artist-painted plaques have prices approximately twice that of the 2-D flat plaques with giclee printed art. These prices  depend on the size, material, carving complexity, number of colors. Prices for  custom carved  18  inch diameter 2.5-D artist-painted HDU or stained wood custom plaques vary from $240 to $370. Prices increase with plaque size.  The Price page gives prices for carved 2.5-D plaques of various sizes, materials, styles, and number of colors. 
Our premium  plaques are carved in 3-D bas-relief,  using  wood (usually Mahogany, Cedar, or Redwood), or High-Density-Urethane (HDU) as the substrate. These are higher-priced carved 3-D bas-relief artist-painted plaques, and have prices three to five times as high as the 2-D giclee plaques. These are museum quality plaques, and are often ordered by federal, state & local government agencies and courts, but also by fraternities and some fraternal clubs.  Prices for 18  inch diameter 3-D artist-painted or bronze, brass or silver-plated  HDU or stained wood custom plaques vary from $380 to $560. Prices increase with plaque size.  The Price list gives prices for carved 3-D plaques of various sizes, materials, styles, and number of colors.  These high-quality plaques may require  from 8  to  24  hours of machine carving time,  and then 4 to 8 hours of artisan work  to hand-sand and artist-brush paint or metal polish them. They are unique works of art for our most discriminating clients.

Fig 7 - We make plaques in three different levels of relief, as shown above. Engraved plaques are in the same price category as 2.5-D relief plaques. Prices increase from left to right.
We do not  mass-produce our  2.5-D or 3-D plaques using molds; even our most popular "standard" plaques such as the US Great Seal or 5 military seals are hand-crafted. Wood plaques have higher prices than High-Density-Urethane (HDU) plaques, and multi-color plaques have higher prices than 1 or 2 color plaques. Metal-plated plaques are more expensive than painted plaques, and 24K gold and silver-leaf gilded plaques have the highest prices of all our plaques, because of the cost of materials and time required by our artisans to precisely hand-gild complex shapes. 
If you have a photo or drawing of your seal, badge, insignia, crest, or coat-of-arms,  we can make a custom 2-D, 2.5-D, or 3-D plaque for you in your price range.
About 70% of our plaques are carved in 2.5-D multi-level flat or engraved relief,  using  wood (usually Mahogany, Cedar, or Redwood), or High-Density-Urethane (HDU) as the substrate. These are very popular and look great. Many times the artwork provided to us for custom plaques does not benefit from 3-D rendering, and we recommend a 2.5-D relief carving which looks good and is about half the price. Our 2.5-D relief plaques carve faster and are much faster to paint than 3-D bas-relief plaques, so they have lower prices. Most of our military, university and corporate plaques are carved in 2.5-D relief. However, our high-visibility government plaques for the White House, many Federal executive departments, embassies, Federal courts, the Pentagon, State Governments and police & fire departments must be carved in 3-D to show off the artwork of the seal or badge. Our talented graphic artists create  2.5-D or 3-D geometric software models using advanced graphic design programs, which we then use to control the extremely precise 3-D computer-controlled carving machines  which carve the plaques to approximate shapes. Craftsmen then hand-sand and hand-carved the plaques to their final shapes, which are then artist-painted or metal-coated, or stained and clear-coated (for wood).  
Plaque Styles (Materials and Design Features)
We make four general styles (materials) of  plaques: (1)  PAINTED: 3-D (bas-relief) , 2.5-D (multi-level flat or outline relief), and engraved plaques which are artist-painted in many colors, or 1 or 2 colors; (2) METAL:  Metal-plated and solid metal  3-D,  2.5-D, and engraved plaques; (3) STAINED WOOD:Natural and stained 3-D , 2.5-D and engraved hardwood and softwood plaques; and (4) PRINTED GICLEE:  low-priced 2-D flat plaques with  artwork and text digitally printed on long life cast vinyl using a giclee process, mounted on either a solid mahogany or acrylic base.   We can also use two or even three of these styles on a single plaque, such as gold-leaf on Mahogany, aluminum or brass-clad Redwood, giclee vinyl on wood or metal; painted areas on metal or wood, etc.  All  of these can be completely customized, and  are carved by a combination of computer-controlled carving machines and hand-carving, sanding and polishing/burnishing by our craftsmen and artisans. The first three general styles of carved plaques  are shown in Fig 8 below and are described below the  figure.

Fig 8 - We Have Three Generic  Styles (Materials) of Carved Dimensional Plaques, Artist-Painted High-Density-Urethane (HDU), Metal-Plated HDU, and Natural/Stained Wood
The four general styles of plaques we make are described below. There are many design variations in size, shape,  carving style, surface finish and color scheme for each of these four general styles, as described below. Click on the gold text to visit that style section. The STYLE section provides  a good overview of our various design styles, and hundreds of photos of examples of plaques we have made with each style are shown in individual style pages. You can click on the gold text to go to the web page that describes this style in more detail.
You can click on a specific style of a plaque listed in the pull-down menu in the gold masthead at the top of the page STYLE to go to a page which shows photos of many dozens of examples of this style along with descriptions and prices.
We can make any plaque you want out of natural wood (stained), artist-painted High-Density-Urethane (HDU),  or plate them with any of several types of metallic coatings/color schemes, or some combinations of these techniques.  We can also put digitally printed long-lasting full color giclee vinyl (photos of family members, or very elaborate painted or digital art) as an applique on any HDU or wood plaque.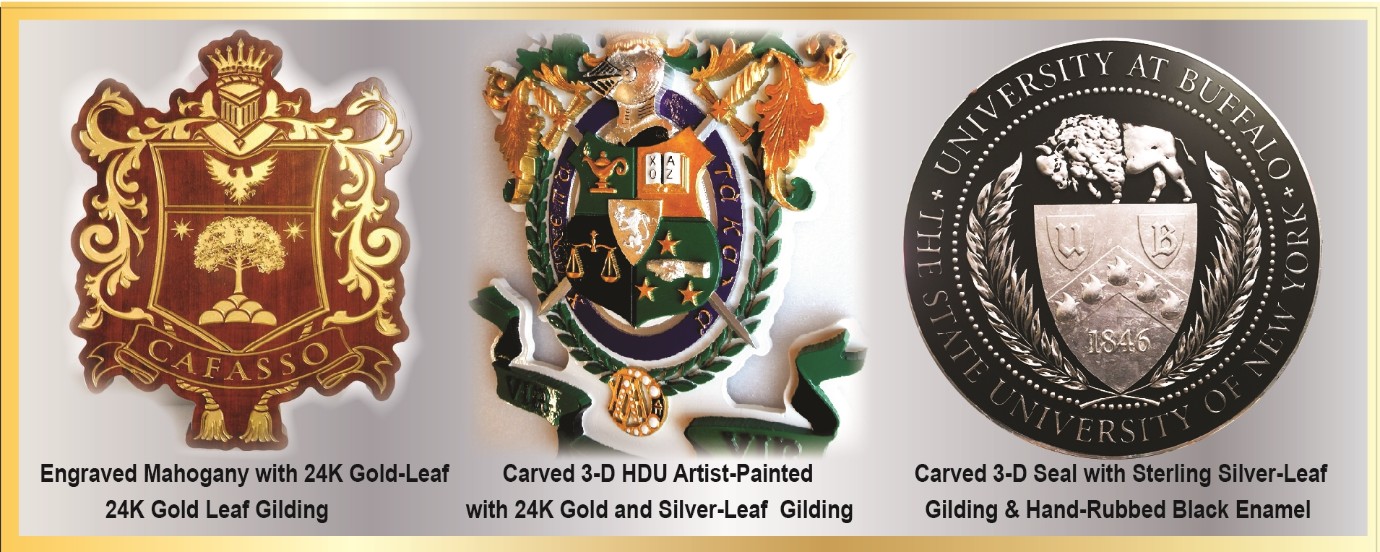 Fig 9 - We Can Combine our Our Wide Variety of Carving, Materials and Coating Techniques to Produce Beautiful and Unique Plaques 
We can combine different carving techniques,  materials, and painting/plating/gilding methods on a  single plaque. Fig 4 above shows 3 examples. We often use Mahogany plaque boards and carve 3-D HDU appliques which are either multi-color painted or metal-plated, to mount on the Mahogany. We can cut out text and artwork from thin sheets of aluminum and mount these on 2.5-D  Mahogany or Cedar plaques with raised text and art; we call these metal-clad wood plaques.  The contrast between the shiny metal and rough dark wood is striking. We can hand-gild  V-carved text of Mahogany plaques with 24K gold or silver leaf. We can also gild  areas of painted HDU plaques, usually raised text and art. We also make separate cut-out metal, stained wood and painted HDU letters. We can provide a 3-D bas-relief cast bronze and aluminum memorial or living person plaque featuring the face or figure of a loved one, etc if we are provided a good photograph. 
Navigating this Website
This site is easy to navigate using common website techniques.  The main navigation aids are listed in the gold masthead above. If you cannot see the text in the gold masthead, please click on the "Maximize" icon (small box) in your browser window, very top right, so this window fill your full screen.   Hovering on an a text item in the gold masthead activates a pull-down menu, where you can hover on one of the names on the list to select a web page. A dark gold underlined bar appears indicating a link and the text turns to gold once a web page is selected. Click on that name link to go to that web page. For each of the main sections, there is usually a secondary menu of items listed immediately below the gold masthead (i.e., header) spread out horizontally across the page. If you hover on a text item, a gold underlined bar will appear and the text will turn gold, and you can click on that link to go to that photo Gallery  page. You can always return to the HOME page by clicking on "HOME" in the right  center of the gold masthead at the top of the page, or any other main section such as PRICE , TYPE (of plaque, organized by client category), or STYLE (of plaque, organized by design and material ). All direct links are are shown in underlined gold text; click on the underlined text and you will go directly to that page.
In addition to the items listed in the gold masthead we have added a detailed list of our plaque  types (customer categories) in the silver box on the left side of this HOME page. You can can click on a category to go directly to that  page. There is also a search box in the upper right of the gold masthead, where you can enter a key word (e.g., "FBI") and results will be displayed listing pages where examples of this are shown.
This site has its products organized in two ways (1) TYPE of Plaque (i.e., customer / client category, such as federal government, state government, courts, Air Force, police, university, company, club, etc.  plaques), and (2) Plaque STYLE (materials & design features, such as wood, metal, engraved, 3-D, 2.5-D) .  The plaques are priced according to their plaque style.  Each of the twenty-four different "TYPE" photo galleries shows a mix of different plaque styles. If you have a specific customer category and are looking for plaque design ideas, please look at that TYPE gallery page to see similar plaques. Or, if have a key word, you can enter it into  the search engine box for this website on the right side of the gold masthead. More detailed descriptions and thousands of photos can be viewed by clicking on the plaque TYPE or plaque STYLE links with pulldown menus in the gold masthead above.
If you know you want a specific design style of plaque (e.g., bronze 3-D bas-relief), and you want more information and to see examples of this style, click on the STYLE section, then click on "Metal Plaques" on the pull down menu, then click on "Bronze" to go to that page, which describes our process for making this type of plaque, lists different design options, and shows over 50 photos of examples of bronze plaques we have made.
If you want more information, want a price quote, or to place an order, you can click on the text in the very top right side of the gold header (i.e.,  "quote"). All price information is given in the section "PRICE" listed in right side of the gold masthead.
You are always welcome to call our customer service representatives Christie or Regina at 951-698-8484 or you can email us at info@artsignworks.com to get more information, to describe a plaque you want made, or to get a price. Christie and Regina are experts in all of our plaque designs, and are responsive and very helpful. Casual or planning inquiries are welcome. We have the best customer service in the business. See a few of our client testimonials below.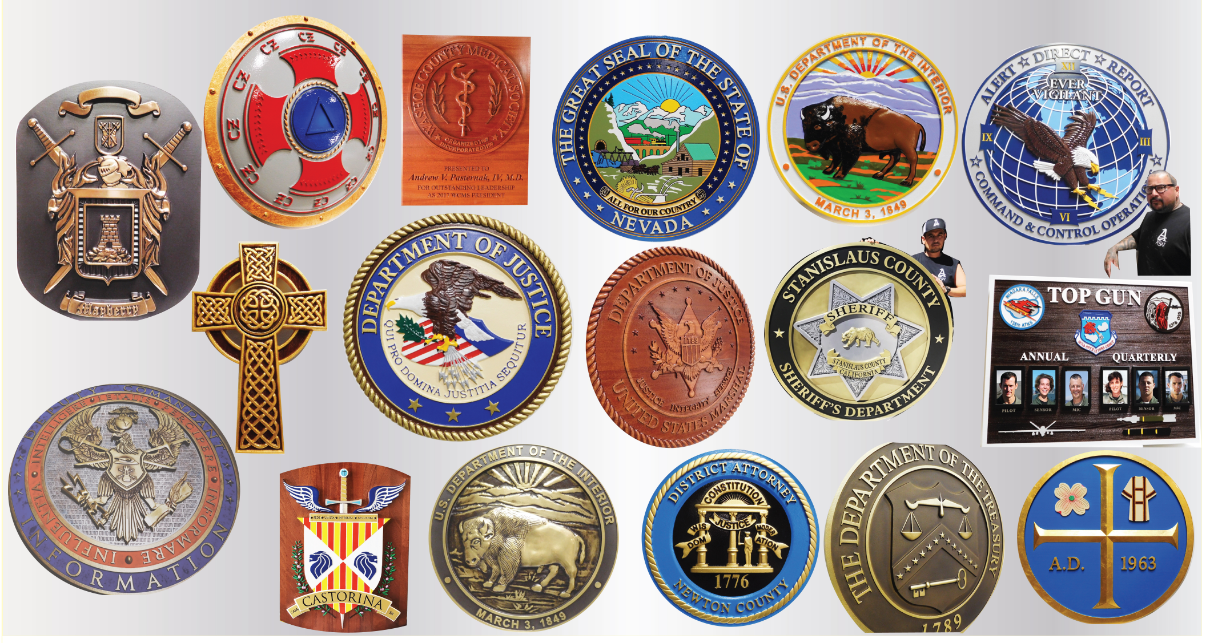 Fig 11 - Above are a few of the over 800 plaques we designed and manufactured since September. These include carved 3-D and 2.5-D Mahogany wood and bronze, brass, gold, silver-plated and artist-painted High-Density-Urethane. The wall plaques shown above were made for Federal and State government organizations, military units, police & sheriff departments, churches, national parks, and families.
Testimonials
Christie, I have never responded since this parcel arrived with the two (Christian Science) Publications)  plaques from you.  I want to say THANK YOU to you and your entire team for creating exactly what we needed and had in mind.I think there is a possibility of needing to order another of the larger plaque at some point in the future, so if at all possible to keep the artwork on file it would be appreciated. Hoping you and yours had a very Happy Thanksgiving. Warm regards, Peter
Good morning Regina, We have received our seal and love it so I would like to place an order for a second seal.  Can you tell me what I need to do to get this process started? Thank you., V.R., City of Clovis - City Manager's Office
Christie  Thank you! And everyone LOVED the plaques. Excellent work!!Thank you again!  A.K., – Executive Assistant to the Chief ,  Pleasant Hill Police Department, CA
Hello Regina, Just received the (three New York City Fire Chief) badge  (plaques) .  They are superb. Making everyone stop and check them out.  Thank you again, Brian, PAUL SIGNS
Hi Christie, We received our (Iowa) Seal Friday and it looks great! We would like to purchase 10 more. Could you send us an invoice and I will send you a PO?  Thank you, K.R.
Christina,I just got back from lunch and unpackaged the plaque. IT IS GORGEOUS! Thank you for your help with this project.,   E., , Visual Communications Specialist, FASTSIGNS Norman
Hey Regina,I rcvd the seals (for the President and VP of the US)  and they look great.  Thank you very much.  Can you send me an invoice/receipt for the second/final pymnt charged to our card?  Thanks. T.B.,US Secret Service.
Good morning, Regina.     I showed my boss the seal today (State of Florida House of Representatives plaque) and we are all VERY pleased with how it came out. Absolutely stunning work. We've been in touch with our billing department for the remaining balance due and you should receive payment soon. My boss is already wanting to get more of these.How much per seal, is there a discount for batch orders, and what other texture/colors do you have access to? Thanks so much once again, Regina!       Daniel
Regina, Wow! The product is incredible! Thank you so much for all your help. It was a pleasure working with you. ..Very Respectfully,Cam 
Hi Christie, again the plaque is beautiful, you guys did a fantastic job, the President is so happy he would like another one exactly the same to put in his house on campus. Can I order another one for delivery as soon as possible? Also, in future if we order more, is there a discounted price for volume, or are they individually ordered…thanks again Christie.    L.C., Finance/Administration, Office of the President ,University of British Columbia
Hi Christie,   Happy Friday!    We all love the seal, it turned out wonderful!  Can I place an order for another one?  We want it to look exactly the same but the next one can have the z-clip hardware.   Thank you, H. T., Second District Court of Appeal
Good afternoon Regina:  The NY Court Seal arrived Thursday afternoon on October 26th. Had it installed Monday, October 30th. Looks great.  I am very happy.  Thanks for all you did for us. B. H., New York
Hi Regina, Just wanted to let you know the medallions arrived. They look great! Thanks, Erik Dressler, Principal
Regina, We received the plaques and they look great. Quality workmanship and product – especially the 3 levels – didn't expect that. Great work. I'm sure we will use you in the future, Thanks. M.C, Centric Signs, Novato,CA 
Hi Christie, Well arrived, thanks for all. Very Nice product ! Congratulations to your firm. See you. Michel M.
Regina, We got it (3-D carved police badge wall plaque) today and it looks amazing!  Very good job!  Could you please send me the receipt for the remainder of the cost that was put on  my p-card?  Thanks again,, N. B.,, Certified Law Enforcement Planner, Athens-Clarke County Police Department
Christie , We received our beautiful "County Commission" sign Thursday.  Thank you for working with us.  If I can be a reference for future Customers, please refer them to me. Thanks again.      G.W. , Commissioner  St. Francois County, Farmington, Mo
Hi Christie,    Just got the White House  plaque and it is excellent in all respects.  Kudos to you and the artists who made it.  All the best, Scott B.
Hi Regina, The plaques are outstanding. We had an unveiling at our Memorial Day service at our plant.They will be on permanent display at our Veteran/POW/MIA area.    Thank you,, R.A., Boston P&DC, Boston
Good Morning Ms. Valenzuela,
I just wanted to say that we've received them (Coast Guard wall plaques) and are very pleased with them. Thank you for all the assistance. Very Respectfully, J.J., USCG Station 
Regina, I went to Fox and un-crated it on Friday, it looks great, in fact  the owner of the business was impressed as well, and has already been on your web site considering signage for his business.  Thank you for your assistance in making the plaque honoring our retired Officers so easy! Sgt. K.G.
Hi Christie! 
Yes, the seal arrived in perfect condition.  Everyone here loves it!  Thanks for all your help with this. 
Thanks again, R.J.,  | Procurement Specialist, US District Court of Maryland - Greenbelt
Regina, Thank you, thank you … you are such a great company and client feels this as well!. Good to go! Monica Kline Fine Corporate Gifts
Christie,, As you will recall, your company created a single sided brass seal for Yancey County back in August.  ..The seal was great and we were very pleased. We want to order a second seal plaque , same as the last one; and  I would like to have the digital file of the seal. I need the highest resolution of the seal that I can get for a separate project I am working on, and hoped you may be able to assist with that ...  Please advise on the best way to proceed on both items.Thanks,N.B.
Paul , That would be fine (to put our sign on your website)....Also, Christie was exceptional to work with...outstanding customer service! J.K., Tinker AFB, Oklahoma
Christie, We received our sign today...looks fantastic! The bolts all aligned, and it is installed--man, heavy sign--but looks beautiful--you guys do great work! J.K., Tinker AFB
Christie, We received the Bakerosa sign in great condition— good packaging. We love it! Thank you so much.     Mike
Good afternoon We received the plaque & everyone (which is important) likes it. The invoice goes before the Town Board on 2/14/2017 for approval & the check goes in the mail shortly there after. S.S., Richmond Town Court
Good Morning Christie, I wanted to let you know that everyone is very pleased with our new plaques! We appreciate the great work that you guys did on them. R.C.,Los Banos Fire Department
Regina,    We received the seal this morning. It looks great!!
Thank-You so much for expediting the order & having it here before the "no later than date".
Thanks again, you have exceeded our expectations!!!! A.N., Technical Director
Dear Christie: I received the sign ordered.It is beautiful. We are very satisfied with the work !!!! Sincerely It looks better than we expected. ....Thank you very much for the excellent job. Sincerely,Dr. R.G., DDS
Christie,   The box with the sign you all created for me came today.  I have to say....AWESOME!  Perfect!  Paint job is just fantastic!  Really well done!    Well done! The sign just makes me giggle         Ed
Dear Regina, Received the (US) Great Seal plaque today wanted to let you know how pleased I  was with work I am thinking about ordering a similar size plaque of the  Great Seal of the President of the United States I suppose you make those as well?  is the price the same? do you have a photo you could e-mail me ?  thank you again for a fine piece of Art Great Job! Best , Larry Zimmer
Awesome!!!! The Military Seals were excellent!!!! Great job to the team!!!!  I'll send a photo for your gallery.
Thanks, Daniel .H., Facilities Team
Hi Regina.  We got the seal and it is beautiful!  Thank you. Kathy Longyear, Court Clerk
Hi Regina, ... It was certainly a pleasure working with your company, and I look forward to another project in the near future. Have a great weekend!  Thanks, Denise, Jonathan Louis Marketing
Dear Art Sign Works: The Town of Clinton,  NY placed an order for a Single sided HDU 24" in diameter and we received it this week.  It is beautiful! I was wondering, our county is doing an exhibit on our town and would like to have some bags made up with the this logo on it.  Is there any way I can get the logo in an electronic file that I can send to the Clinton County Historical office so they can have the recyclable bags made?  Thank you.   K.R., Town of Clinton  NOTE: We sent it to her free of charge
Good morning Regina, I rec'd the plaque yesterday and it is a work of art!  Kudo's to the artiest! lol!... Thanks for all you do!     Semper Fidelis, Hal 
Regina… Our plaque is awesome! Thanks, Mike Mulcahy
Dear Art Sign Works: The signs arrived in perfect condition. Well packed, thank you. They are very nice and we are pleased. We'll send you a picture when they're installed. Thanks I. W. Ohio
Dear Regina, We LOVE our sign…Thank You! Regards, Jo D. Interior Designer ASW, We LOVE the signs! Thank you so much. Donna Elliott S
Art SignWorks:   We received the signs today and they are gorgeous! Thanks for all your help and I will be in touch... Tammy
Art SignWorks,  Received the military seals yesterday and I want to tell you they are absolutely stunning. They were perfectly packed and ups never made a mark on the box. Thank you so very much. They will make a perfect addition to our social quarters. I know our veterans will thank you also. Again my thanks to you and your craftsmen for God and Country    David B., 1st Vice commander, American Legion, Virginia
Art SignWorks,   I just wanted to thank you for our new sign. We received it on last Thursday afternoon. It looks absolutely AMAZING! It is exactly what we were looking for. We have 2 offices in North Carolina that may need a sign made in the future so I will let you know. Thank you again, Anne-Simms H.
ASW,  The signs arrived and are a big hit!!! Thanks to you and your team for a job well done. Thanks again for all your help. Kevin K.
ASW;  We love, love, love it...we just got our sign and it is fantastic! We enjoyed working with you on this.   S.D.
ASW;  Just got my sign and it's great, thank you so much for your careful attention to the details. Frank F, NY
Art SignWorks; They are beautiful!!! Just beautiful and the quality is the best. Thank you for taking good care of me. M. K.
Art SignWorks;  The signs are awesome, we need another please. Thanks for the great service and answering all my questions. C. Chang