Wholesale Information for Plaque Retailers & Resellers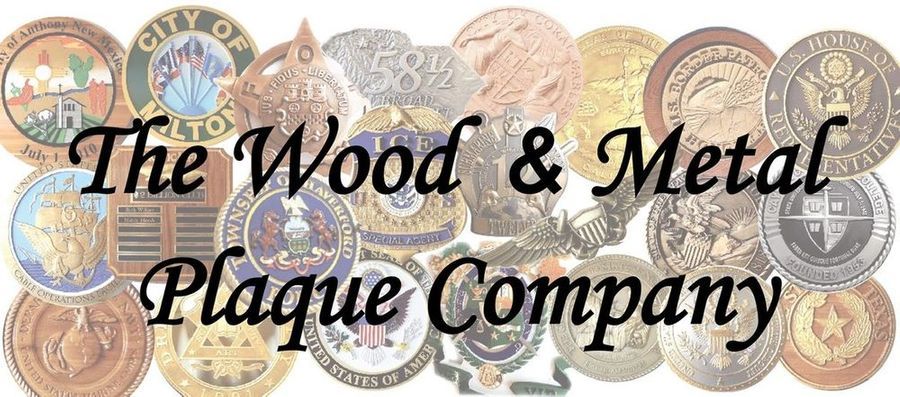 To: President/Owners/Marketing Managers of Sign Shops, Sign Retail Stores. Marketing Companies, Awards & trophy Shops, or Sales Agents/Brokers
Are you interested in increasing your net income without any additional investment or cash flow issues? Are you looking for a manufacturer for high-end carved wood & HDU plaques & signs? You may be interested in our offer presented on this page. We offer low wholesale prices on our high-quality, long-lasting plaques and signs.
The Wood & Metal Plaque Company, a subsidiary of Art Sign Works, Inc, is a specialized custom wood and High Density Urethane (HDU) plaque manufacturing company located in Southern California. We make CNC carved  2.5-D (multi-level raised flat relief) , 3-D (three-dimensional bas-relief), and engraved (incised) plaques & signs, from simple 2.5-D two-level flat relief  plaques and signs to large high-end carved plaques with 3-D sculptured bas-relief art. We have an extensive  nationwide wholesale business , and over  500 sign shops, sign retailers,  sign design studios, marketing & branding companies  sell our custom carved dimensional signs  and plaques. These companies usually do not have the in-house capability of manufacturing carved wood, HDU and metal-plated plaques, which requires extensive equipment and specialized technical expertise.
We sell at wholesale prices dimensional 2.5-D raised, engraved and 3-D carved  signs and wall and podium plaques with any size from 6  inches to 10 ft.   These  custom artist-painted High-Density-Urethane (HDU), stained and painted wood (mahogany, Western Red Cedar, Redwood, Maple, Oak, Cherry) , and metal-plated  (bronze, brass, copper, silver-nickel, aluminum)  signs & plaques are unique and beautiful, and are much in demand by customers.  We offer low wholesale prices to retailers (sign shops, design studios, marketing and branding companies, sign integrators, installers, and general contractors) all over the US and Canada. We are very competitive in our prices; a recent survey showed we have  lower wholesale prices than any other manufacture for most of our products, and we are the only manufacturer for some of our unique products (e.g., metal-plated 3-D plaques, artist-painted 3-D plaques,  stained mahogany/cherry/maple/oak wood signs & plaques, and gold leaf gilded signs & plaques). We are also the only national manufacturer that designs and fabricates custom steel and aluminum mounting and structural support hardware for large (6 to 10 ft diameter) wall plaques.
Our wall and podium plaques  usually  feature seals, logos, emblems, badges, shoulder patches, or insignia as artwork.  These are purchased by Federal, State, County & City  governments and their agencies; Federal, State, County & Municipal Courts;  US Navy, Army, Air Force, Marine Corps & Coast Guard units; police, sheriff & fire departments; universities & schools; and clubs, corporations and homes. Examples of these are shown throughout this website.
If you are looking for an overview of our plaques types and styles, please view the short video below or go to our Home page by clicking on the far left top dark gray tab. If you are looking for signs rather than wall plaques, please visit our sister website, Art Sign Works. You can call us at 951-698-8484 or EMAIL us at info@artsignworks.com for more information on any of our products or prices.
Prices
Some examples of our signs are shown in the photo above and on the rest of this website. You can click on our Home page for an overview of the company and products. You can  download our 54 page catalog in PDF format, by clicking on this link,  Dimensional Signs & Plaques Catalog . (this may 120 seconds or longer to download). This Catalog can also be saved, printed, or viewed in a slide show mode by clicking on the Adobe Reader tool bar. We will send out a hard printed copy to you upon your  request if you email us at  info@artsignworks.com, or call us by phone 951-698-8484. Please provide your mailing address.  
Along with our Catalog, we  have a Wholesale Price List, which provides  approximate prices for all plaques listed in the Catalog. The price of a sign or plaque depends on size, material, style of carved relief, type of surface coatings, number of colors, and mounting hardware. Every sign or plaque can be ordered in many different custom sizes, materials, colors, and design variations. Our Wholesale Price List is approximate to help you in planning and discussing design options with your customers, because the exact price depends on details of the design, and may change due to fluctuations in prices of materials, especially wood; always call or email us for firm quotes.
We offer fast response to your request for quotes (usually a day). Just send us an email or call us, and we will provide firm quotes on any design options you are interested in.  
We  can guarantee 4  week turnaround from the time you approve the final proof for a firm order (requires a 50% down payment)  until we ship.
If you are an established sign retailer, please consider selling our sign products under your brand. You can order signs or plaques based on any of  the 12,000 designs on this website or our sister website Art Sign Works,  or you can use your own designs and provide files in EPS or AI vector format.
Your Profit Margins 
We provide a quote on a sign-by-sign or order-by-order basis, which you can mark up with your costs and profit margins before you submit your bid to the customer. We will send  you an unbranded  paper copy of our Dimensional Signs & Plaques Catalog and  our wholesale price list for different sign designs,  and you can then quote your own marked-up prices with your own logo, etc. We have no "suggested retail price" but most retailers mark up our wholesale prices by 30% to 100%, plus their own costs for survey, design, installation, etc, if any.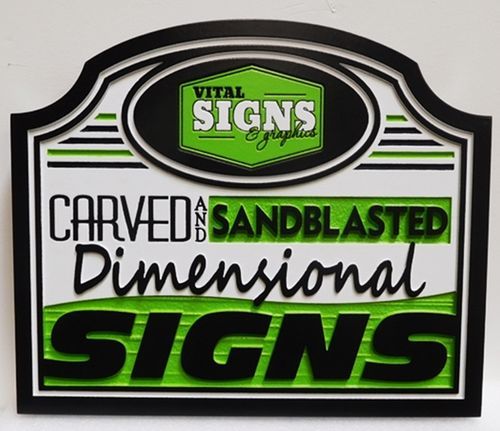 Marketing Package
Upon your request by email or phone, we will ship you a marketing package free of charge which includes: (1) our  54 page  unbranded Catalog  "Dimensional Signs & Plaques", describing  our plaque products in hard color copy; (2) a wholesale price list;  (3) a  HDU sample that shows various carving and sandblasted styles; (4) a desktop display which advertises carved "Dimensional Signs & Plaques"; and (5) a color wall poster 24 x 36 inches in size showing various types of signs & plaques. These are all free to you; you do not even have to pay postage. 
You can download on-line PDF versions of our Catalog  "Dimensional Signs & Plaques" (click on link) , in addition to being sent a paper copy.  You can also download The Dimensional Sign Re-Sellers Handbook" (click on link). This is a  handbook for re-sellers  with suggestions on how to sell carved dimensional signs, with answers to common questions.  
Doing Business with Us
We charge no service or fixed fees.You need make no commitment as to minimum sales nor do you have to sign any contract. You do not need to make any investment, nor do you have to carry inventory. You might sell zero signs, or 50 signs per year. No special advertising is required; any advertising is up to  you. You can use any of the text or photos on our two websites and in our Catalog at no cost and without attribution.
We do not require exclusivity. You can work with other wood or HDU sign manufacturers to get competitive bids on your projects,  However, you cannot use any of The Wood & Metal Plaques Company's  designs on our websites  to make your own signs or have another company make them; all of our sign designs are the intellectual property of Art SignWorks, Inc  and we have a US copyright  that covers our designs. You can use our photos royalty free, but only if they are used to help get an order for which we will produce the plaques .
Every sign is a stand-alone deal. Your commitment is our commitment if our  designs are used. We honor our schedule commitments (typically 4 weeks plus shipping). You can terminate or pause our relationship at any time for any reason by simply not ordering signs.
You should have a positive or neutral cash flow. We  require a 50%  payment on most signs, which you should be able to collect from your customer. The remainder of the payment is due the day we ship the plaque to you.  
We guarantee our products. If our products fall below professional standards in workmanship or we make an error, we of course will either fix the product, replace it, or refund your money. We have a two year warranty on all our products.
Improve Your Bottom-Line
This is a  opportunity for you to add hundreds of attractive, below market-priced products to your portfolio at no cost, no risk, positive or neutral cash flow, and minimal impact on your operations. Many of our retail partners sell one to four signs/month, with an average order sale price of $2000. For design studios and sign companies with larger signage contracts (e.g., hotels, apartment and condo complexes, community colleges, resorts, etc), we supply quotes on build-to-print basis for the signs you want, and you can integrate and install the signage or component parts. There is no down side, you have no fixed overhead associated with these products and do not have to carry inventory. If no one ever buys a dimensional  sign, your expenses are basically zero other than any special advertising you may do. For more information, or to receive our Marketing Package, please call or email us. We will need your resale certificate. Our main Office Number is (951) 698-8484.  Our three customer service representatives,  Christie, Regina or Liz, will be pleased to help you. You can email us info@artsignworks.com, or write us at  Art SignWorks, Inc. 41785 Elm Street, Suite 302, Murrieta, CA 92562. We look forward to hearing from you.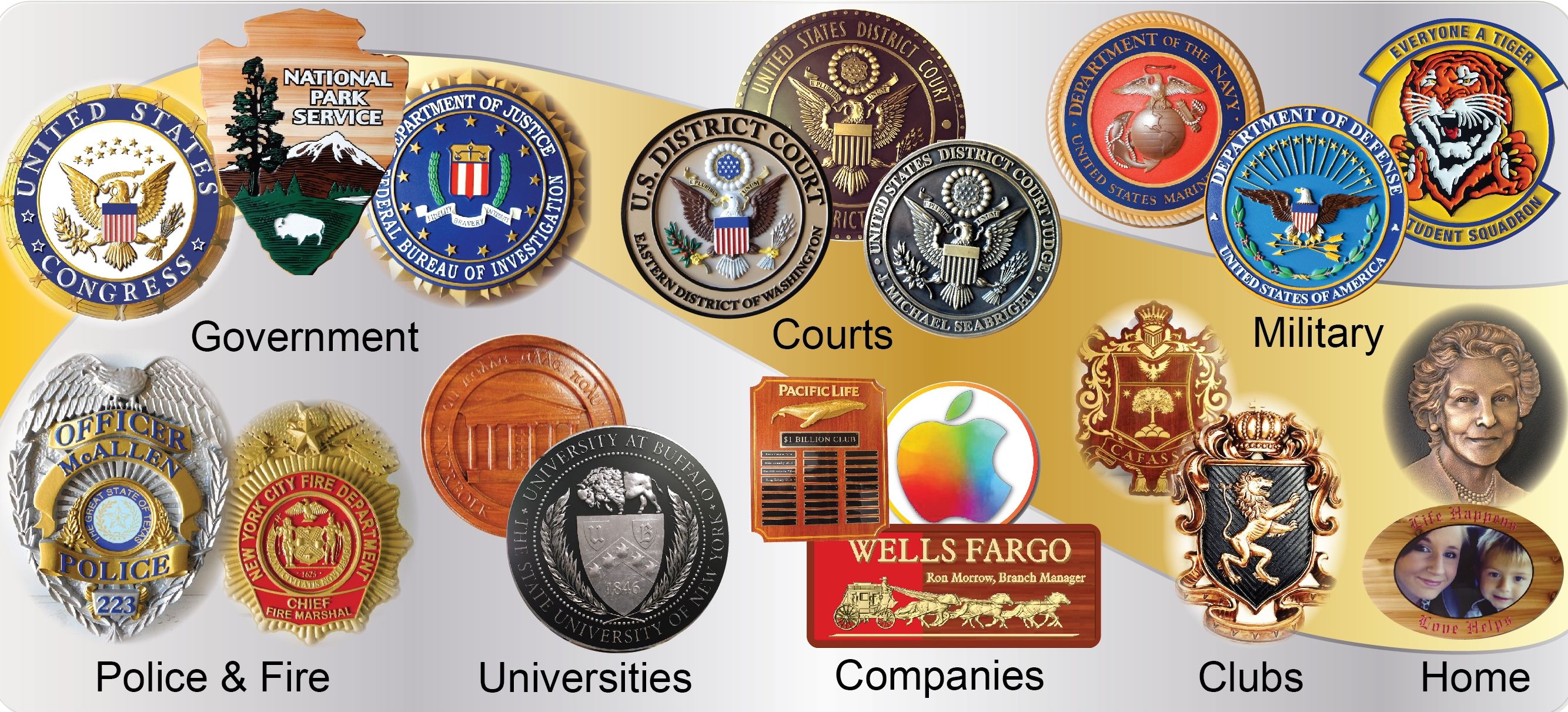 Our Design & Manufacturing Capability
We have an excellent design team. We have three full-time designers on our staff, plus two other part-time 3-D designers. We can design and fabricate any plaque shape and relief profile,  including complex rope and ornate borders, any font style, engraved or raised letters, deep-cut CNC routing with a smooth or textured background, elaborate and detailed 3-D carved custom artwork or art  from our extensive library of over 2000 3-D  relief images, and multi-color artist brush and airbrush painting including sample matching.You do NOT have to supply machine-ready vector art; we will produce it if necessary,
We produce high-quality sandblasted, engraved, and hand-carved wood and HDU signs in our state-of-the art design and manufacturing factory. Our design computer programs include Adobe Illustrator CS5, Photoshop, Aspire 2.5 3-D Modeling, a large library of Vector 3D clipart, and V-Carve Pro 3D software. We have very capable SOA woodworking and paint shops, with a high capacity sand blast booth and a paint spray and airbrush booth that can handle 15 ft signs, five large-table (12 ft x 5 ft) CNC routers, several saws, a drill press, a planer,a large belt sander, small powered tools, and hand carving and painting tools. We also have a complete wrought iron and aluminum manufacturing capability (cutting, bending, drilling, welding, and coating) and make both steel and wood sign hangers and support structures. We have the capability of producing over 100 medium and large signs per week. We have a warranty on all our signs for 2 years and guarantee your satisfaction on the delivered products (including shipping ) - you have no risk as the retailer except for specification errors in the drawings or other info you send to us.
Although we generally sell finished signs (painted HDU,  stained wood, or metal-plated plaques), we also sell unfinished signs (we carve, you paint or stain and clear-coat ) at wholesale prices to retailers, at a little more than half the price of finished signs, depending on sign type and complexity. We also sell both custom and standard aluminum and steel  mounting  and support hardware, to make it easy for you to install wall and podium plaques. 
Our Plaques Have the Highest Quality 
 We use the best materials available to make our signs and plaques. We use 20 lb/ft3 a Precision Board HDU for our  plaques (nearly all other sign companies use a softer less dense HDU 15 lb/ft3 density). This  higher quality material provides  improved carving precision on fine details,  adds strength, and increases plaque lifetime. All of our High-Density-Urethane (HDU) plaques  have a special two-part polyurethane primer put on the entire plaque before painting or metal-plating. For our painted High-Density-Urethane  (HDU) and wood signs, we use two part Matthews Polyurethane paint (MAP) (an automotive quality paint) and 1-Shot Sign enamels for color. All our plaques and signs are sprayed with  2 coats of Matthews clear-coat polyurethane for extra protection and to minimize oxidation of bronze, brass and silver surfaces. 
We also make African Mahogany, Maple, Black Walnut, Cedar and Redwood and Red Oak plaques and signs using the highest quality furniture grade wood.   
Call us for competitive pricing, and we will send you our wholesale price list. These are among the lowest prices offered in the US for high-quality plaques..
Products and Services
Outstanding customer service. A customer rep will be assigned to work directly with you to make sure your requirements are met and you know the status of the sign you have ordered.
Developing or enhancing the sign design if it is not supplied. You do NOT have to provide cut-ready vector files (e.g., Illustrator or EPS); however, we will "Build-to-print" if you do supply them.
Carving 3-D art and letters with one of our five large table (12 x 5 ft) 3-D CNC router / carvers.. We have a huge library of software to carve intricate and beautiful 3-D bas-relief sculptures we can put on signs) (
Prismatic and beveled/rounded raised letters of any font style
Gold, silver and copper-leaf gilded letters, art, borders and backgrounds.
Bronze, brass, copper, and aluminum  plating on any 2.5-D,  3-D carved or engraved HDU sign. These can have darkened patina or painted backgrounds , or bright hi-polish finishes (see Product Line 7)
Textured backgrounds with complex carvings (using the CNC routers) or sandblasting in wood grain, sandstone (small pebble) or leatherette backgrounds.
Beautiful and complex artist oil-brush and air-brush paintings, for either 2.5-D multi-level flat-relief or 3-D bas-relief carved art
Elaborate and intricate borders and flourishes 
Multi-level and built-up extra thick (3 to 8 inches) laminated plaques with overlays 
Fine furniture-grade wood plaques using the highest-quality Mahogany, Cherry , Maple, Alder, Walnut and Oak hardwoods, in addition to Redwood  and Western Red Cedar, 
Aged, antiqued, scorched, and rustic wood plaques 
Digitally printed giclee vinyl appliques with clear coat finish
If you have a plaque with a complex design that you want made, we are the company that can do it, at a very reasonable price. If you can describe it , draw it, or provide a picture of it,  we can design and make it.