Maple, Oak, Cherry & Walnut Wood Plaques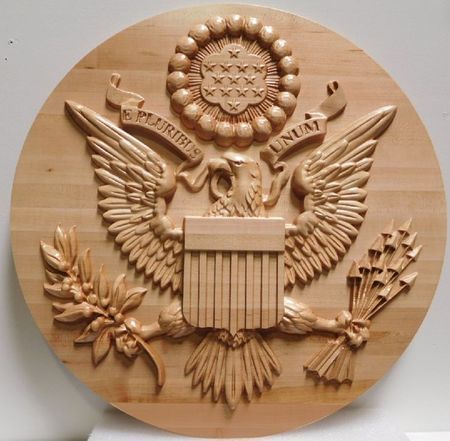 WELCOME TO OUR GALLERY ON DOMESTIC HARDWOOD PLAQUES    (STYLE CATEGORIES 1.3.5 & 1.3.6)  
Welcome to our photo Gallery for our domestic hardwood plaques, where we show over 50 examples of various types of natural and stained  wood plaques in this photo gallery, including those carved from Red Oak, Maple, American Cherry, and Black Walnut (additional price). We design and fabricate hundreds of beautiful  custom 3-D and 2.5-D hardwood plaques and signs each year for  military units, police & sheriffs, clubs, corporations, government agencies, and  homes.  
Each  plaque is custom crafted  by our experienced and skilled craftsmen and artisans. We use  several  carving techniques such a 3-D bas-relief, 2.5-D flat relief (raised text and art), sandblasting, and engraving (both U and V-carved profiles). We also use many  Minwax stain colors, but sometimes use no stain,  on  these impressive and authentic  wood plaques which will retain their beauty over many decades. We also make  plaques that utilize other features, such as 24K gold-leaf,  carved 3-D HDU appliques, digitally-printed colored vinyl photos, and engraved brass plates. We spray all  plaques with two coats of Matthews polyurethane acrylic clear coat for maximum protection and lifetime. All our wood plaques are  moisture-proof, non-fading, graffiti-resistant and long-lasting, and can be placed outdoors as well as indoors.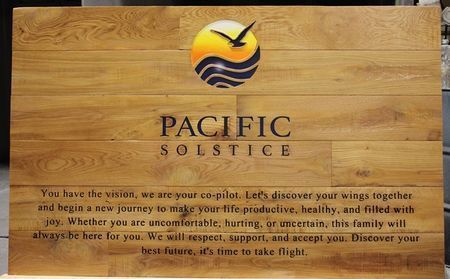 This Gallery describes and shows over fifty  examples of our oak, maple, cherry and walnut  plaques. We offer  several carving techniques, special features and plaque sizes  for our wood plaques, each with different prices. The prices for each of these different styles for various size plaques is given on the PRICE web page , listed by price code and plaque size. Our 3-D plaques have higher prices than 2.5-D plaques because of the additional labor and time to carve and hand-sand  them. Prices also depend on plaque size,  which varies depending on wood availability and lumber prices, and any special features. Prices are higher for plaques that have some areas painted with an artist brush, have 24K gold-leafed text or artwork, or have engraved brass plates. See Style Categories 1.3.5 and 1.3.6 on our  PRICE page.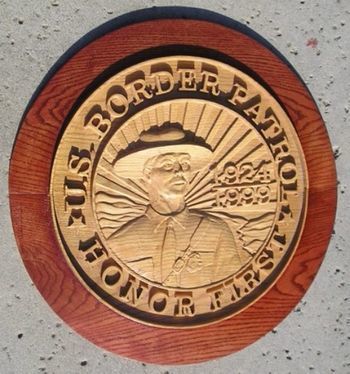 Red Oak.  We make  plaques  from Red and White Oak. Red Oak is America's most popular choice for wood floors and serves as the industry benchmark when rating hardness among species. For outside plaques exposed to the weather, white oak is more suitable because it is impervious to water or moisture because of its tighter grain structure. Red oak features a reddish tan color and has a distinctive glow that creates a warm feeling. The quintessential American hardwood,  Oak has a classic look and excellent strength properties. Oak has a proud heritage dating back several thousand years, since houses, barns and ships were often constructed using oak beams. Red and white oak is best suited for large 2,5-D and engraved plaques, although it does carve cleanly because it is a hard wood. Red oak is shown on the right side of Fig 1 and 2 above. It is usually stained with a "Golden Oak" MinWax stain, to bring out its interesting and beautiful grain patterns. It stains very well.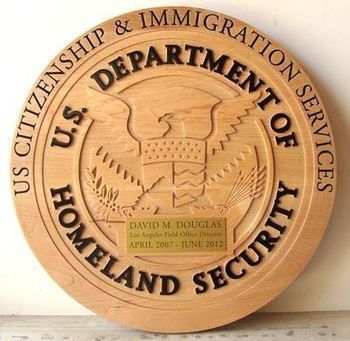 >
Maple. Maple hardwood is exceptionally beautiful and durable with fine graining and even coloring. Because of its classic beauty, Maple is a favorite for furniture and flooring. Its natural colors range from creamy tan to a light reddish brown.  It is a hard wood and carves cleanly. It is an excellent choice when a light-colored  wood is desired. It does not have to be stained because it has very little color variations. A 3-D plaque carved from maple is shown second from the right in Fig. 1 above.
>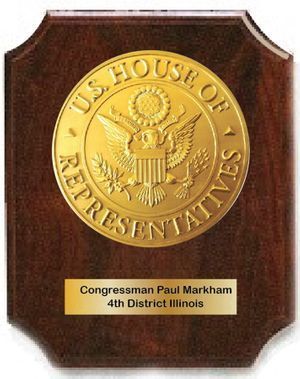 >
Cherry. We make  plaques  from Cherry wood. It makes excellent small shield plaques. A long time favorite for its rich color and excellent workability, Cherry is very popular   for use in fine furniture and cabinets. The wood has  a pinkish, rosy tone when it is cut and carved,  and continues to darken over years to a deep, lustrous red.  Cherry is easily carved and sanded  and takes an excellent finish and polish.
>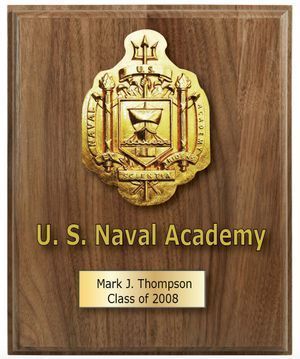 >
Black Walnut.  We also make  smaller plaques   from Black Walnut. With its gorgeous chocolate tone and easy workability, it's easy to see why Black Walnut is a favorite among woodworkers. It is used extensively for fine furniture, and we use it for our finest high-end plaques.  The heartwood varies from light grayish-brown to deep chocolate brown, occasionally approaching an almost black or purplish-brown. The grain is famous for its sometimes stunning patterns. 
>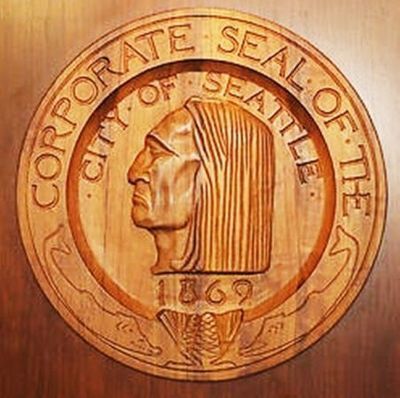 HOW TO CONTACT US
The prices for these styles  for various size plaques is given on the PRICE  webpage (click here or on PRICE in gold masthead) , listed under Style Categories 1.3.5 and 1.3.6.  Or, you can fill out and submit our on-line Request a quote form. You can also call or email us for a price quote on a specific plaque.  One of our  knowledgeable and helpful Customer Service Representatives, Christie, Regina, or Liz, will respond to your request promptly.  You can call us at 951-698-8484 or email us at info@artsignworks.com.
We will work with you to design and build the exact plaque you want. We would like to make your  plaque, and we are confident that you will be pleased with it. We take great pride in every product we make for our valued clients. We offer a 2 year warranty on all our products, and our indoor plaques will last many decades without degradation.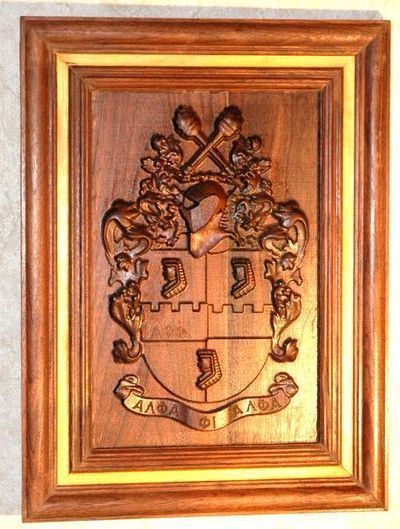 WEBSITE NAVIGATION
You can go to another Section or Gallery page by clicking on an item in the pull-down menus in the gold masthead at the top of the page.  You  can search for a specific plaque type (e.g., "FBI" ) by entering the key word in the search box in the upper right of the gold masthead. You can view a list and use the navigation bar for all 24  Gallery types by viewing the silver box on the left side of the HOME  page. You can also view different types of plaques for different customer groups (e.g., State Courts or US Coast Guard) by clicking on the TYPE section in the gold masthead above.  You can view a description of all of the different plaque styles by clicking on  the plaque  STYLE section also listed in the gold masthead. 
To request information, a design, a quote, or to place an order, click on the text (e.g., "contact ", " quote", " file" or " order")  in the upper  right of the gold masthead at the top of this page.  All prices are given on the PRICE page in the gold masthead. 
For more information on design options, prices and delivery times, please call us at 951-698- 8484 or email us at info@artsignworks.com, and one of our knowledgeable and friendly customer service representatives Christie, Regina or Liz,  will be pleased to help you.