24K Gold Leaf Gilded Plaques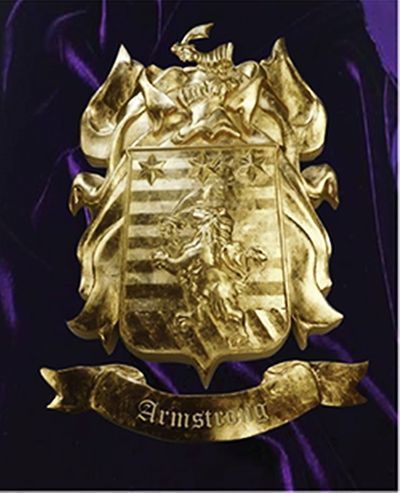 WELCOME TO OUR GALLERY OF 24K GOLD-LEAF GILDED  PLAQUES (STYLE CATEGORIES 1.2.9, 1.2.10  & 1.2.11)         
Welcome to our photo Gallery for our custom 24K gold-leaf gilded plaques, where we show over 50 examples of various styles of these plaques. We design and fabricate hundreds of beautiful  custom 3-D and 2.5-D   plaques and signs each year for courts, federal and state governments, universities, fraternities & sororities, schools, clubs, corporations,  and  homes which are decorated with gold leaf.  We often gild V-carved text, borders, and 3-D carved artwork, with the rest of the plaque painted (sometimes with metallic gold paint)  or metal-coated. We can gild wood (especially dark stained African Mahogany) as well as High-Density-Urethane (HDU) substrates. It is unusual but we can also gild the entire front surface of a  plaque, but this is expensive. Each  plaque is custom crafted  by our experienced and skilled gilding artisans. All our plaques are  moisture-proof, non-fading, and graffiti-resistant.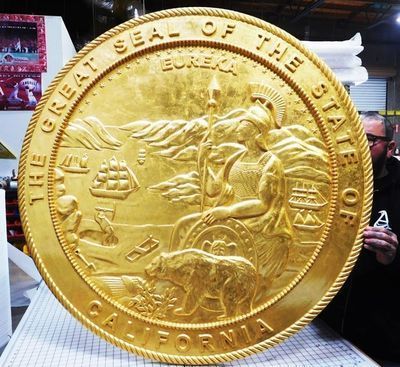 We gild by hand the surfaces area of a plaque with 24K  gold leaves, and then burnish the surface, which is a technique used by ancient Egyptians 3000 yrs ago (many of King Tutankhaman's wooden artifacts were gold-leaf gilded) and used for thousands of years on architectural features and objects d'art in palaces and cathedrals. St.Peters Basilica, Buckingham Palace, and the Czars Summer Palace in St. Petersburg all extensively used gold gilding in interior architectural features on ceilings, walls and staircases.  Faberge  used gold leaf gilding on many of his eggs. Gilding consists of applying small (3.5 inches x 3.5 inches)  extremely thin rectangular leaves of pure 24K gold to the surface to the plaque's  surface using a small tool and brush with sizing. Excess leaf is cut off, and a protective clear coat is applied over the leaves.  Examples of gold leaf-gilded plaques are shown throughout this page., including the Phot Gallery below. below.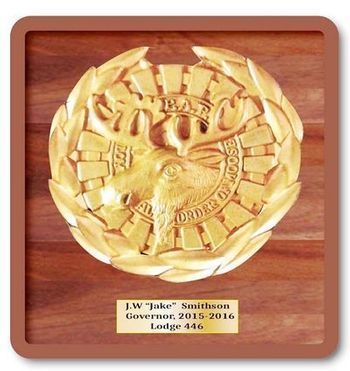 This Gallery describes and shows a few  examples of our custom gold-leaf gilded plaques.  The prices for gold-leaf gilded plaques are given on the PRICE  page , listed under Style Categories 1.2.9, 1.2.10, 1.2.11 & 1.2.12  for several plaque sizes. Gold-leaf gilded 3-D bas-relief plaques have higher prices than 2.5-D flat relief or engraved plaques because of the additional labor and time to carve and hand-sand the High-Density-Urethane (HDU) substrate that is gilded  with the gold leaf. After the 24K gold leaf is applied, an artisan  burnishes it with a small hand tool to a high shine.  Finally, we apply two clear coats to the finished gold-leaf plaque to protect it from damage  and being scratched. Gold leaf will maintain its luster for hundreds of years even when placed outside, because it is non-reactive with all elements and will not oxidize.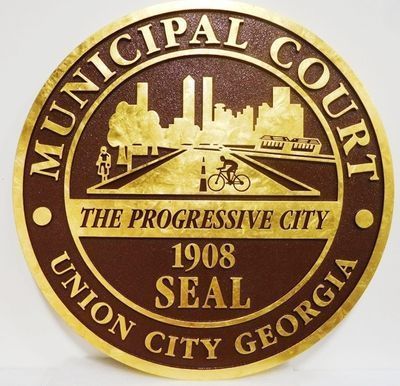 HOW TO CONTACT US
The prices for these styles  for various size plaques is given on the PRICE  webpage (click here or on PRICE in gold masthead) , listed under Style Categories 1.2.9, 1.2.10, and 1.2.11.  Or, you can fill out and submit our on-line Request a quote form. You can also call or email us for a price quote on a specific plaque.  On of our knowledgeable and helpful Customer Service Representatives, Christie, Regina, and Liz, will respond to your request promptly.  You can call us at 951-698-8484 or email us at info@artsignworks.com.
We will work with you to design and build the exact plaque you want. We would like to make your  plaque, and we are confident that you will be pleased with it. We take great pride in every product we make for our valued clients. We offer a 2 year warranty on all our products, and our indoor plaques will last many decades without degradation.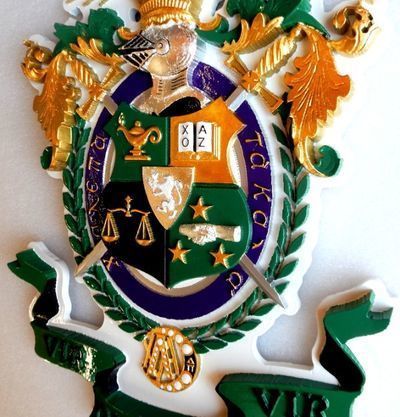 WEBSITE NAVIGATION
You can go to another Section or Gallery page by clicking on an item in the pull-down menus in the gold masthead at the top of the page.  You  can search for a specific plaque type (e.g., "FBI" ) by entering the key word in the search box in the upper right of the gold masthead. You can view a list and use the navigation bar for all 24  Gallery types by viewing the silver box on the left side of the HOME  page. You can also view different types of plaques for different customer groups (e.g., State Courts or US Coast Guard) by clicking on the TYPE section in the gold masthead above.  You can view a description of all of the different plaque styles by clicking on  the plaque  STYLE section also listed in the gold masthead. 
To request information, a design, a quote, or to place an order, click on the text (e.g., "contact ", " quote", " file" or " order")  in the upper  right of the gold masthead at the top of this page.  All prices are given on the PRICE page in the gold masthead. 
For more information on design options, prices and delivery times, please call us at 951-698- 8484 or email us at info@artsignworks.com, and one of our knowledgeable and friendly customer service representatives Christie, Regina or Liz will be pleased to help you.