SA1442 - Carved Cedar Chain-of-Command  Board for the Marine Corps Junior (MCJ) ROTC  aboard the Dwight D. Eisenhower  Aircraft Carrier, CVN -69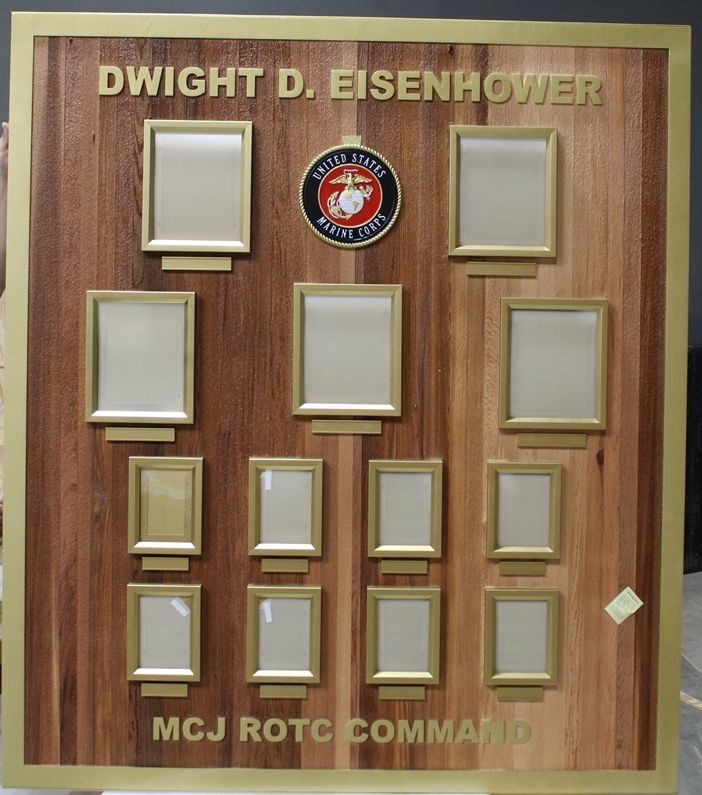 Chain-of-Command  Board for the Marine Corps Junior (MCJ) ROTC  aboard the Dwight D. Eisenhower  Aircraft Carrier, CVN -69
This is a carved Command Board for the Marine Corps Junior (MCJ) ROTC.  This  Western Red Cedar board is carved in 2.5-D raised relief.   This plaque is stained and artist-painted with long-lasting sign enamels, and  the plaque is  clear-coated twice. The USMC seal is digitally printed because of its small size. There are five 8x10 photo frames and 5x7 photo frames mounted on the board, all with brass tags with positions engraved on them. Photos are easily replaced in the frames.  This and similar command boards can be ordered in any size from 24 inches to 60 inches in diameter.
For more information on design options, prices and delivery schedules, please call us at 951-698-8484 or email us at info@artsignworks.com, and we will respond promptly.
To go to the main photo gallery for this style, please click on "Return to List" below left.