SA1160 - Chain-of-Command Board at Fort Eustis for  US Army Training and Doctrine Command, Carved in Mahogany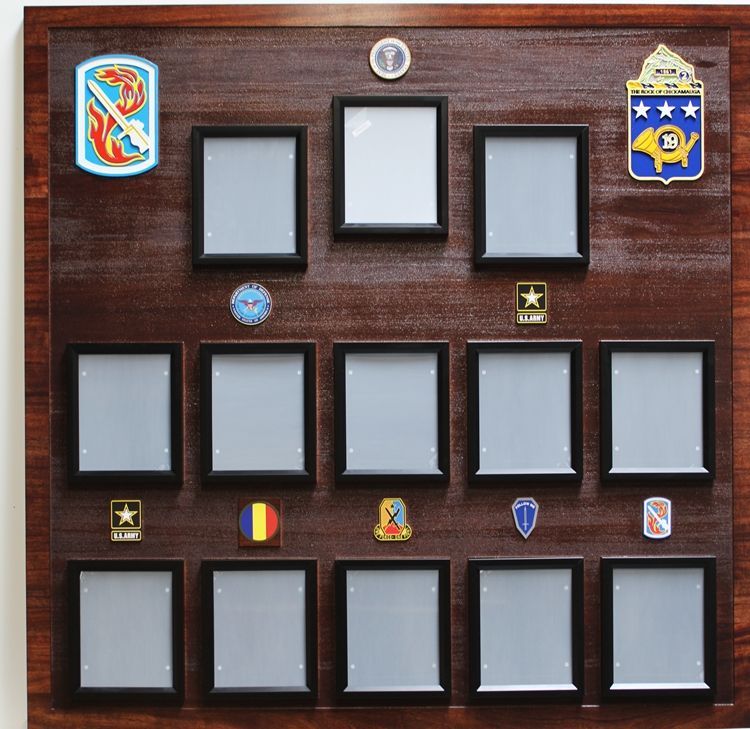 Chain-of-Command Board at Fort Eustis for  US Army Training and Doctrine Command
This is a carved custom Chain-of-Command Board for the US Army Training and Doctrine Command, featuring  the 19th Infantry Regiment with motto "The Rock of Chickamauga" and the 198th Infantry Brigade. Both have carved artist-painted crests at the top corners of the board.   This Command Board, made of African Mahogany ,  is a 2.5-D multi-level raised relief carving . It is dark stained, with carved raised pedestals on which eight  printed giclee vinyl appliques of different   seals and insignia are mounted under the picture frames. This seals and insignia are printed because they is too small and too detailed to be artist-brush painted.  These seals and insignia include  those of the President of the US, the Secretary of Defense, the Secretary of the Army, the Chief of Staff of the Army, and various US Army units. The picture frames hold photos which can be easily changed out.  The wood  is clear-coated twice. This command board is suitable for both inside and outside locations. It and similar Command and Award Boards can be ordered in any size from 24 inches to 96 inches wide . You can see other US Army plaques of all types on the US Army plaque photo gallery. 
For more information on design options, prices and delivery schedules, please call us at 951-698-8484 or email us at info@artsignworks.com, and we will respond promptly.
To go to the main photo gallery for this style, please click on "Return to List" below left.