Kevin Cohn, Production Manager, Chief Designer, and Senior Project Manager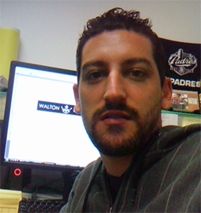 Kevin is an experienced graphic designer for commercial and consumer products. He is our lead designer and production manager . He also supports our marketing effort and manages our larger projects.
Kevin is a Commissioned Graphic Artist who has created and developed art for many companies including logos, business cards, brochures, signs/banners, packaging and apparel. He is our expert in 2,5-D and 3-D model development using Vectric Aspire , V-Carve and Vector 3-D models, as well as 2-D design programs such as Adobe Illustrator,, He is our expert for our CNC Routing & Carving machines. Kevin is very creative and responsive to customer requests.
Kevin has attended the Art Institute of California-San Diego, and Mt. San Jacinto C.C., Menifee, CA, majoring in graphic design.