BP-1033- Close-Up Photo of Carved Plaque of the Seal of the PACE Program, 3-D Artist-Painted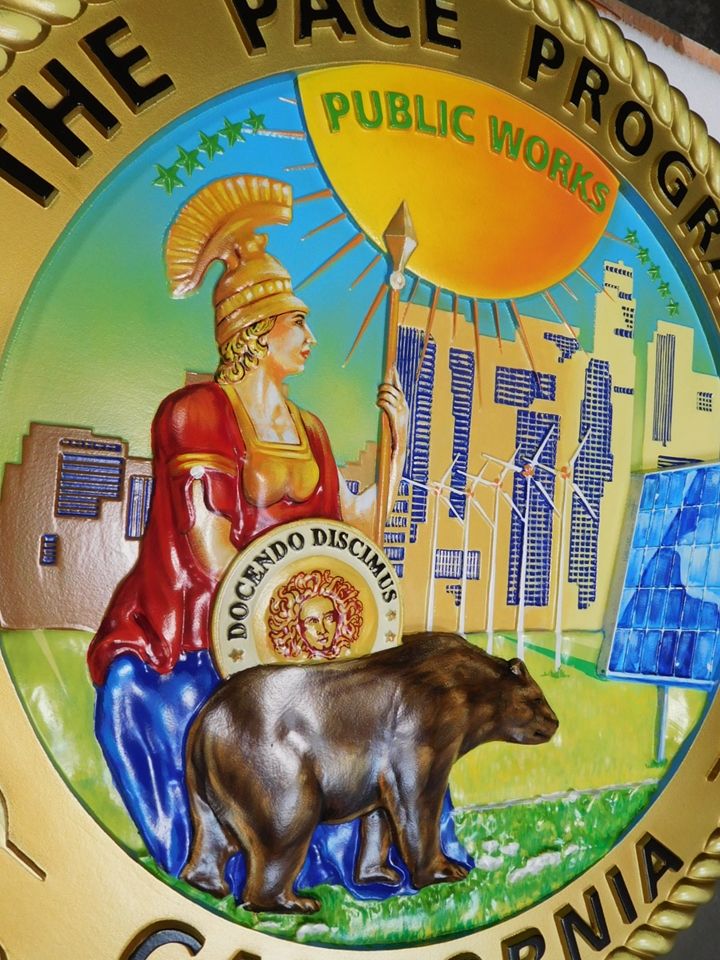 Close-up of the Plaque of the Seal of the PACE Program, incorporating Artwork from the Seal of California
This is a close-up photo of the carved wall plaque made for the PACE (Property Assessed Clean Energy) program for the State of California. This plaque is an accurate 3-D bas-relief carving of its  Seal, made from High-Density-Urethane (HDU), a synthetic wood material used extensively by the sign industry for carved signs. The text shown in the border can be modified, or an outer border can be added with text for a subsidiary organization, a location, or a person's name and job title/rank, dates, and/or a citation (e.g., retirement or special award). This plaque is hand-painted in bright, long-lasting sign enamels and then clear-coated twice. It is suitable for both inside and outside locations. It can be ordered in any size from 10 inches to 120 inches in diameter.
This Plaque Style is 3-D relief, 10 Colors (click to see description).
Please click on State Government Plaques to see over 150 standard and custom State government wall and podium plaques for most of the 50 US states. These are made for executive branches, including state government departments, agencies, services, administrations, commissions, and bureaus, and also for legislative branches (senate and assembly). Plaques for the state courts are shown on the State Court plaques page. Plaques for state police and highway patrols are shown on the Police & Sheriff plaques page. Federal, county, and city government plaques are shown on other web pages in this Government section, listed under the gold masthead above.
For more information on design options, prices and delivery schedules, please call us at 951-698-8484 or email us at info@artsignworks.com, and we will respond promptly. To go to the main State Government plaque photo gallery, please click on "Return to List" below left.